When I think of Tupperware I think of my childhood in the sixties. I remember that once in a while a Tupperware party was held at our place. My mom invited a few of her friends and than a consultant would visit and bring all sorts of products.And the things I remember, yes I stayed sometimes because I liked the demo, was that these products were so simple and good. And the closing of the lid, just perfect.
I never forget the way you had to close a small container for instance. First you had to put the lid in place and then press your thumbs on it to let some air out and finally you could close it. This way the food inside the container stayed fresh longer. It was called 'Airtight Promise'. Anyway, I've got nice memories of those 'parties' and we had a whole lot of Tupperware products.


And now I stumbled upon these Tupperware Jell-O Mold pendant lights. It's called 'TupperLight' by Boots N Gus, based in Ann Arbor, Michigan | United States. "We named our shop after two of our cats, Boots & Gus. We're addicted to vintage housewares, books, music, art, etc…so we offer a large selection of vintage treasures as well!"
Stylish pendant light for retro lovers
The TupperLight is made from a vintage Tupperware Jell-O mold and paired with a brand new standard 15′ light fixture. "This light is the perfect accessory to any retro home and a must have for that 50's kitchen!"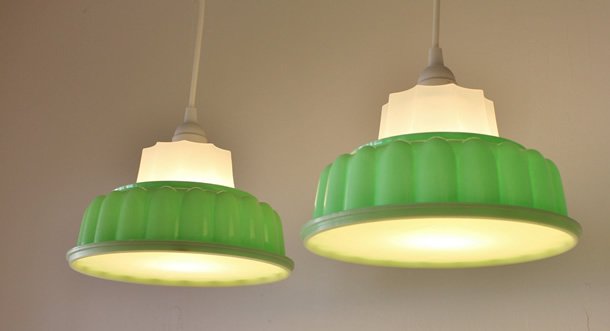 Photos © Boots N Gus

The colors are so much retro, the good old days shine again. And it so stunning to see how the pendant is transformed when the light is on. Bright white when off this light seems to transform into a rich warm color when turned on, while the lid and top stay pristine white.
Boots N Gus specializes in originally designed, upcycled lighting. "Upcycling vintage items into beautiful lighting fixtures is our passion! We make all of our lights by hand in our studio in Michigan."
TupperLight is again a great example of what upcycle design can be, both stylish and fun. In this case a relatively simple object is upcycled into a fantastic pendant light.
Have a look at this 'tribute' [must see documentary], a must see for all vintage and retro lovers!
Since you're here …
I have a small favor to ask. Thousands are visiting upcycleDZINE for upcycle design inspiration every month. Readers in more than 100 countries around the world are now able to support financially.
upcycleDZINE is a completely independent niche site, is very work-intensive, and offers tons of unique information for free.
To keep upcycleDZINE running, I'm asking you for your support.
Your contribution will allow me to:
– meet the hosting costs
– upgrade to keep track of traffic increases
– add new content, and keep improving the older content
– add new functionalities to this site
– improve how it works and how it looks
– and last but not least, my daily dose of coffee 🙂
Again, all contributions will be reinvested into the aforementioned associated costs of running this blog and will help ensure the ongoing quest for quality upcycle design.
Your kindness and generosity will be greatly appreciated and will give me the motivation to continue.
Every contribution, however big or small, is so valuable for the future of upcycleDZINE.
Support today from as little as $2 – it only takes a minute. Thank you.