Time for one of my favorite items, especially when they are made out of upcycled materials. I'm talking about bags. I've said it before on upcycleDZINE, I guess I've got a soft spot for bags although I just use one [not upcycled]. I think it's about the craftsmanship it represents together with nice details and design. And the fact that a bag can show what someone is about. And in this day and age a bag is not only a fashion item for women but also for men.
Sails and life rafts get a new life as bags
Last week I stumbled upon a company called Mamukko, founded in 2011 by two Hungarian brothers Levente & Attila Magyar. Mamukko is based, according to them 'in one of the nicest corners of the world', Kinsale | Ireland. They design and manufacture one offs and limited edition eco – friendly sailing, fashion and lifestyle bags in their workshop.
"Mamukko is all about upcycling, creativity and passion! Mamukko is uniqueness, funkshionality and consciousness! We proudly build on our family's heritage as 4th generation creators and designers."


They use traditional leather craftsmanship and skills inherited from their parents to upcycle and circulate textiles creating an eco-eclectic and original style of their own.
And that's a thing I like about all upcycle bag designers I've seen so far. They all have their own style and although some use the same materials they still create different design identities. Just like these bags by Mamukko.


"Our philosophy is simple. To create authentic and original bags (products) from selected reclaimed sails, leather and other textiles. Respecting our roots and know who we are and where we are going. This is why each and every Mamukko is handcrafted by us in our workshop in Kinsale, Ireland. We love every single aspect of this nice circulatory road from sourcing the sails (and other fabrics) to stitching the pieces together and taking the pictures while we listen to our records played on a Technics 1210 turntable."
To make their bags even more unique, each one off and limited edition Mamukko has a unique serial number hand-written onto the bag or on a stitched in label.


The brothers are always 'limited' to the fabrics they source. "This is why we make one offs & limited edition series. We could repeat some of the designs (depending on the quantity of certain sails or fabrics we have) but we enjoy and prefer reinventing ourselves and constantly coming up with new innovative ideas and products."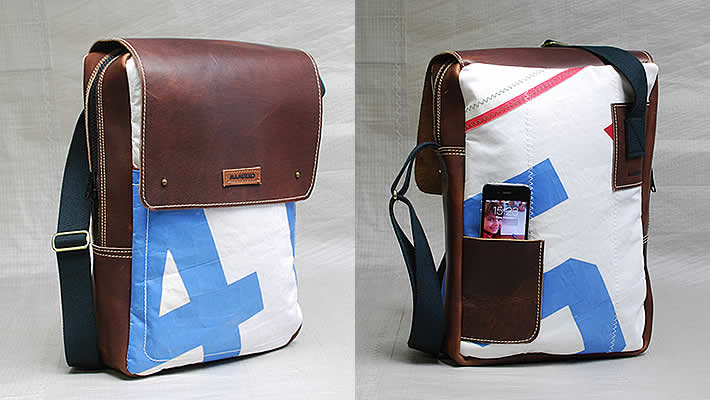 Photos © Mamukko

A fantastic feature/detail is the label that's on the bag. The stitched in labels are made from upcycled sailcloth and hold the name of the bag or product, serial number, batch number and the fabrics that are used to make the bag. That's what I was talking about when I said 'nice details'. This is one of the main reasons why I like upcycle design bags.
And like Levente & Attila Magyar say: The future is green!
Since you're here …
I have a small favor to ask. Thousands are visiting upcycleDZINE for upcycle design inspiration every month. Readers in more than 100 countries around the world are now able to support financially.
upcycleDZINE is a completely independent niche site, is very work-intensive, and offers tons of unique information for free.
To keep upcycleDZINE running, I'm asking you for your support.
Your contribution will allow me to:
– meet the hosting costs
– upgrade to keep track of traffic increases
– add new content, and keep improving the older content
– add new functionalities to this site
– improve how it works and how it looks
– and last but not least, my daily dose of coffee 🙂
Again, all contributions will be reinvested into the aforementioned associated costs of running this blog and will help ensure the ongoing quest for quality upcycle design.
Your kindness and generosity will be greatly appreciated and will give me the motivation to continue.
Every contribution, however big or small, is so valuable for the future of upcycleDZINE.
Support today from as little as $2 – it only takes a minute. Thank you.