One of the most popular categories on upcycleDZINE is upcycle furniture made out of bicycle parts. And I'm happy to have come across another great designer that embodies upcycling. His name is Qiang Huang from China. He studied product design at Donghua University graduating in 2012 with a Bachelors of Arts. In 2019, he received her Master of Fine Arts at Central Saint Martins in the Industrial Design department.
Shared bikes littering public areas
In recent years, bike-sharing industry was booming in China. These bike sharing/renting plans are very simple. If you want to use a bike, you just have to pay a fee and get a bike from a docking system that these companies use. And there quite a lot of companies. China has reached the point where millions of unused and unwanted shared bikes littering public areas, never to be used again.
Bike Scavengers create upcycle furniture
Being an environmentally conscious person, Qiang Huang took on the challenge to do something with all these discarded bikes. He started an initiative called created Bike Scavengers. An association to encourage people to disassemble millions of over-produced discarded bicycles on the street and turn them into valuable products like upcycle lamps and upcycle furniture. Working in collaboration with Chinese bike sharing company Mobike, Qiang Huang was able to get access to a wide variety of bicycle parts for the project.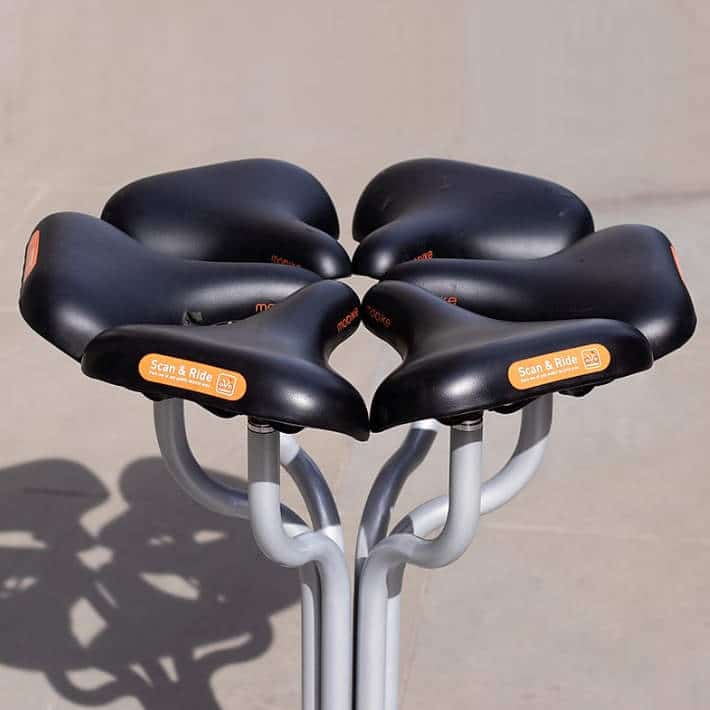 Qiang Huang:
"At the heart of the project, there is a critique of the environmental detriment caused by bike-sharing schemes in their operations and unregulated growth in China."
If you're in doubt if these scavengers have enough resources to create upcycle furniture, well there's more than enough debris. Chinese shared bike fever has reached saturation, while the legacy left by a group of grounded companies is persistent. At the end of June 2018, approximately 20 million shared bicycles were thrown on the street by more than 60 different shared bicycle companies and the usage rate is extremely low.
Products that make a statement
Qiang Huang wants to make a statement with Bike Scavengers. "Our products could not only be a functional commodity but also be a provocative piece reminding people how bike sharing affected us and in what way we could protect our living environment and future. Meanwhile, those products are trophies to commend their morality."
All in all an amazing initiative that not only produces fantastic upcycle design, but also has a great story and is a true statement.
Design by Qiang Huang