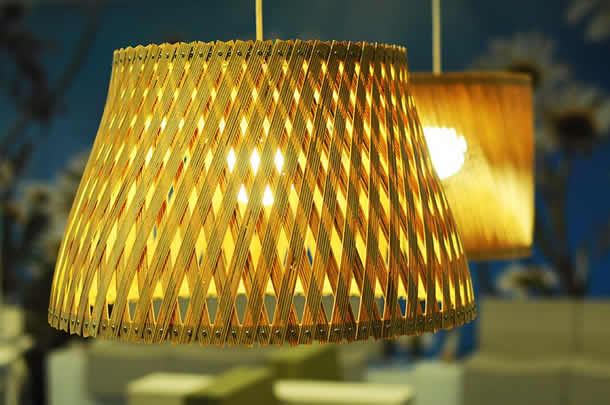 This post is about new design that was shown at the Dutch Design Week 2014. No, I'm not writing this as part of my visit to the DDW because I didn't visit this exhibition at the DDW. But I can see that I clearly missed out on great upcycle design.
The exhibition was in the Schellens Factory. An old textile factory in the city centre of Eindhoven, which was put out of operation in early 2009. Creative housing foundation Stichting Ruimte brought the building back to life in 2010 by allowing creative entrepreneurs and initiatives room to develop. I'll certainly will add the Schellens Factory to my to-visit-list next year.
Lampshades out of wooden offcut pieces
The design I should have seen was a collection of wooden lampshades called UPCYCLE Lamp, designed by German product designer Benjamin Spöth, based in Eindhoven | The Netherlands.
Benjamin has a great manifesto on his website where he outlines what he 'believes in…'. One of the main subjects is: Upcycling materials and a cyclic life of materials by [a] Producing goods that can be disassembled, [b] Creating more value form the given and [c] Reusing products, parts and/or materials.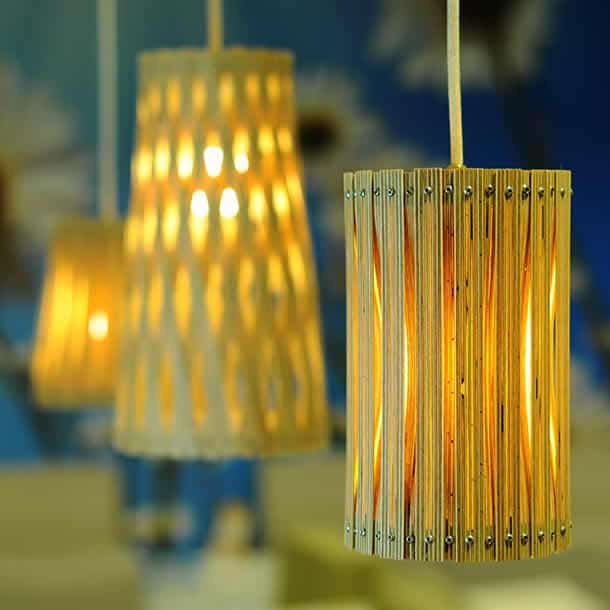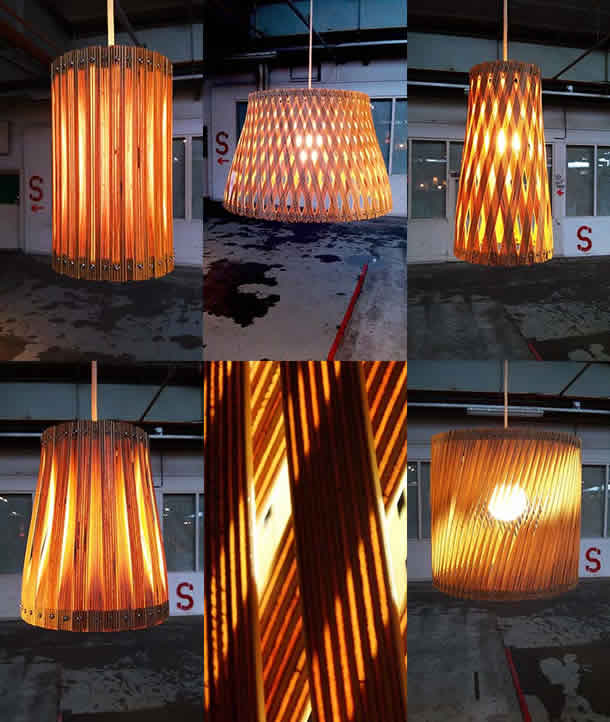 Photos © Benjamin Spöth Design

Well all these thoughts can be found in his wooden lampshades. Benjamin on his design: "Upcycle Lamp is made from leftovers wood. Offcut pieces multiplex board – which usually gets discarded by the industry – is processed into lamp shades. The wood is finely sliced in millimeter thin stripes and refined in different working steps. The result is a play of light and shadow, indirect light and semi-translucent sections."
Amazing to see that these simple multiplex offcuts can turn into a friendly lampshade collection with a nice warm glow.
Since you're here …
I have a small favor to ask. Thousands are visiting upcycleDZINE for upcycle design inspiration every month. Readers in more than 100 countries around the world are now able to support financially.
upcycleDZINE is a completely independent niche site, is very work-intensive, and offers tons of unique information for free.
To keep upcycleDZINE running, I'm asking you for your support.
Your contribution will allow me to:
– meet the hosting costs
– upgrade to keep track of traffic increases
– add new content, and keep improving the older content
– add new functionalities to this site
– improve how it works and how it looks
– and last but not least, my daily dose of coffee 🙂
Again, all contributions will be reinvested into the aforementioned associated costs of running this blog and will help ensure the ongoing quest for quality upcycle design.
Your kindness and generosity will be greatly appreciated and will give me the motivation to continue.
Every contribution, however big or small, is so valuable for the future of upcycleDZINE.
Support today from as little as $2 – it only takes a minute. Thank you.