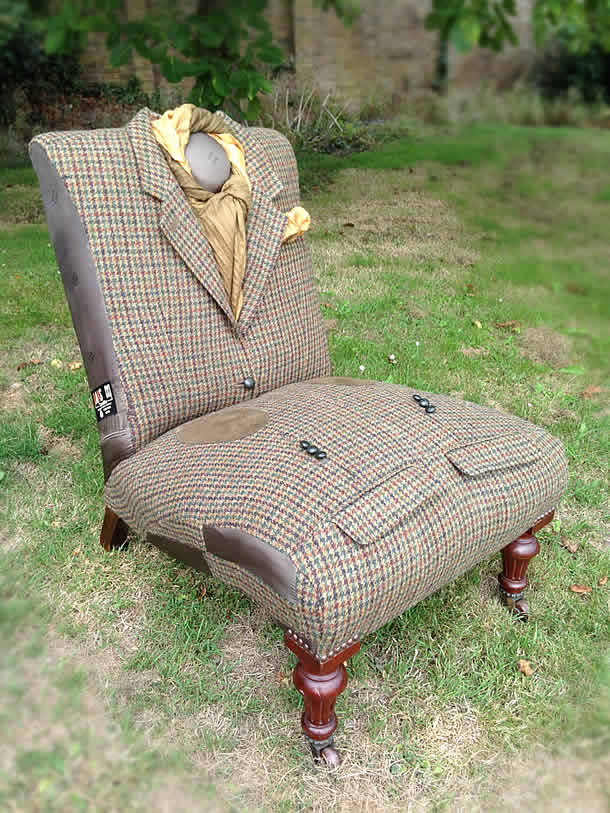 If you're looking for a chair, a real eye-cather, than Rescued Retro Vintage might be interesting. It's an Etsy shop, yup another one, based in Sussex | United Kingdom. They specialize in creating unique stylish on-off pieces of furniture and design. And having said that and looking at the photos of the upcycled chairs, I think they did a great job.
When I saw these chairs I was Immediately smiling and amazed. Who would have thought of combining a vintage chair with an old Tweed jacket, would turn out this good.


Rescued Retro Vintage, in the top chair, took a lovely antique mahogany slipper chair and lovingly wrapped it with an original Harris Tweed DAKS Pony Club jacket complete with the lining and original leather buttons and suede elbow patches.
"We have tried to use virtually the whole jacket to wrap this chair and complimented it with a matching scarf and handkerchief in the pocket and finished off with the obligatory pheasant feather in the lapel." The chair rests on its original brass castor feet and the whole chair is finished off with antiques brass dome top studs.
Chairs that honor retro jackets
The second piece consists of a nice simple chair that was completely refurbished and wrapped in a lovely nostalgic original 1960's Dunn & Co. woollen tweed overcoat. "As you can see we have even incorporated the original yellow and black check lining on the arms."


Photos © Rescued Retro Vintage

For this last chair, they have taken an original Soviet Cold War woollen overcoat and meticulously created this stunning chair leaving the back of the chair exposed bare to the upholstery webbing and tufting materials.
Rescued Retro Vintage created a fantastic line of unique and funky chairs.
Design by Rescued Retro Vintage