Lighting is a thing we can't do without. According to WikipediA: 'Lighting or illumination is the deliberate use of light to achieve a practical or aesthetic effect. Lighting includes the use of both artificial light sources like lamps and light fixtures, as well as natural illumination by capturing daylight.'
On upcycleDZINE I show lighting that has to do with lamps and light fixtures. And of course that lighting should have to do with an upcycle design light fixture. And since this blog started back in the spring of 2013, there have been many examples of fantastic, exuberant or simple lighting design.
But what about upcycling vintage outdoors light fixtures into interior lighting?
Headlights get the attention they deserve
Well, have a look at the upcycle lighting design collection by Urban Light Factory, founded by Ulf Schulz and based in Berlin | Germany. This company creates very stylish and cool looking lighting made out of vintage headlights from a motorcycle, automobile or other motorized vehicle.

Photo © Peter Fields

You can even bring your own headlight from your first or favorite car or motorcycle so a very personal lamp can be created. All is done with new wiring, a few new components and a beautiful old tripod. Urban Light Factory turns an almost forgotten item like a vintage headlight into a real eye-catcher.
It's just amazing to see what kind of impact it has when you take an old object and use it in a totally different setting. In this case a beautifully shaped headlight with nice details getting a second chance to shine it's light and thereby getting all the attention it deserves.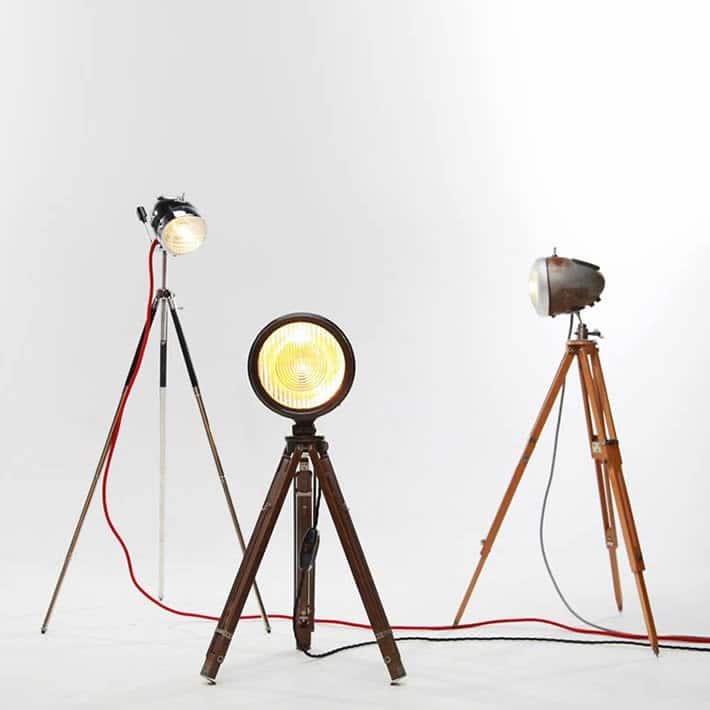 Ulf Schulz: "Just like our lights, our packaging is handmade custom work. Each spot is delivered to you in a wooden box which is made of scrap wood. In a bed of organic wood wool and wrapped in a linen cloth, the lights are guaranteed the journey to the end of the world."
To show the care that has gone into this product the headlight lamp is accompanied by a hand-sewn 'light letter'. This shows that your lamp is a unique and original by Urban Light Factory. In this 'light letter' you can find details such as the history of the headlight, an original photo with the corresponding vehicle as well as a detailed user manual. Another very nice touch is that Ulf includes the right tools for making a pit stop to replace the bulbs.
Photos & video © Urban Light Factory

"For us light is more than lighting, more than one indicator. We understand in the Light the Fascinating, History, Design and Creativity, and want to bring you this with our illuminations. Main incentive is the love for the craft and the materials. We want to give you from the selection of components and production of each unique piece, to opening the package at your home, something real and unique. Something permanent that will stand the test of time."
Urban Light Factory shows by putting in so much effort into the details and quality, that they really care about their own product. And that's how it should be.
Since you're here …
I have a small favor to ask. Thousands are visiting upcycleDZINE for upcycle design inspiration every month. Readers in more than 100 countries around the world are now able to support financially.
upcycleDZINE is a completely independent niche site, is very work-intensive, and offers tons of unique information for free.
To keep upcycleDZINE running, I'm asking you for your support.
Your contribution will allow me to:
– meet the hosting costs
– upgrade to keep track of traffic increases
– add new content, and keep improving the older content
– add new functionalities to this site
– improve how it works and how it looks
– and last but not least, my daily dose of coffee 🙂
Again, all contributions will be reinvested into the aforementioned associated costs of running this blog and will help ensure the ongoing quest for quality upcycle design.
Your kindness and generosity will be greatly appreciated and will give me the motivation to continue.
Every contribution, however big or small, is so valuable for the future of upcycleDZINE.
Support today from as little as $2 – it only takes a minute. Thank you.