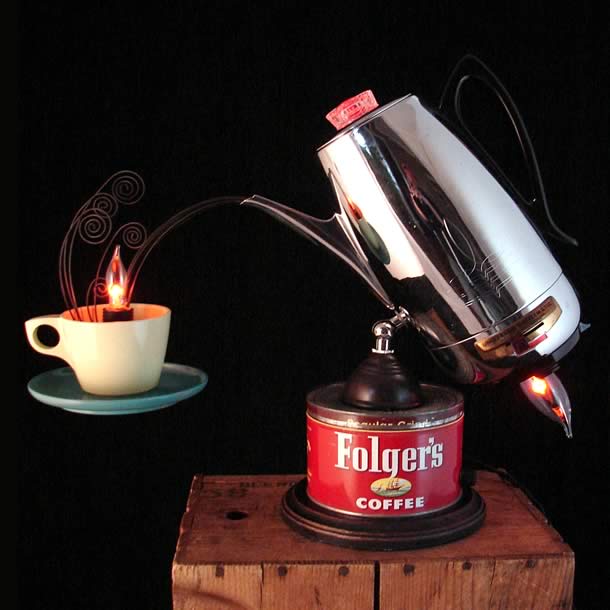 Taking vintage objects and upcycling them into design or even art objects is not everybody's cup of thee or coffee. But in many cases it is. And when I mention coffee, upcycling and objects it covers today's design.
A lamp designed by Benclif Designs, founded by Rodger Thomas and based in Atlanta, Georgia | United States. It's a vintage percolator and turned it into a lamp with a blasting pot of the proverbial 'rocket fuel'.
Rocket like Percolator igniting memories
This vintage beauty has been thoroughly cleaned and amended with new UL recognized electrical components. "This relic is sure to ignite sentimental memories of days gone by while fitting in perfectly with modern kitchen, dining room or living room home decor."


The base of the percolator holds a neon flame/flicker bulb meant to simulate rocket fire. The old glass dome is lid simulating the burning tip of the rocket as it blasts through the atmosphere. The melmac cup and saucer are suspended by wire that has been curled to simulate steam and hides the electric cord which supplies the 7 watt neon bulb in a new candelabra socket.


Photos © Benclif Designs

For those who are not yet familiar with upcycle design, Benclif Designs [Fb] put a note at the end of the info about this lamp at the Etsy store stating: "Look closely at the photos for imperfections. This is an upcycled creation made from objects that had former service lives. There may be scars and scratches in the finish. You are purchasing a bit of history that has been repurposed into a provocative piece of lamp art. THIS IS NOT A NEW LAMP."
History, character, usage and honesty are things that people like about upcyle design and makes it stand out and unique.