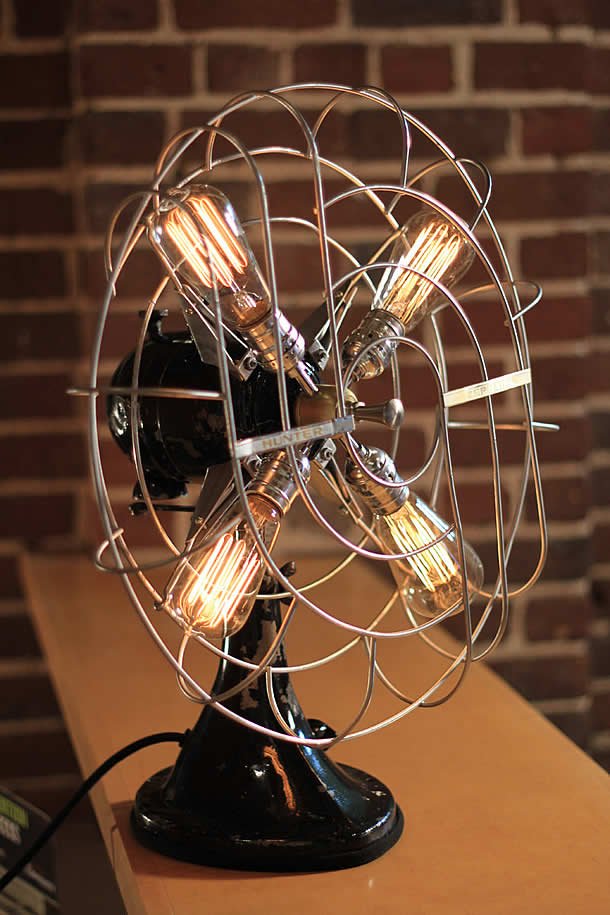 Objects from back in the old days are so great. They have character, quality and they look fantastic. So if you would take such an item, upcycled it to let's say a lamp, it would certainly stand out. To see what I'm talking about, take a look at the Blow Dryer Lamp by Lunch Lady Vintage and SEW ME Lamp by vanderBijl – design & interior. Two beautiful exemples.

Vintage
And now I want to show another superb upcycle design that made use of an old object. The 'Vintage Fan Lamp' by Dan Cordero: "These desk fans date back pre-1950's and each repurposed fan turned lamp has a distinct one of a kind look and feel. Each fan lamp creation goes through a time consuming and meticulous process of turning it into a piece of repurposed treasure. I'll find you the perfect vintage fan and breathe new life into it by adding either 3 or 4 Vintage Edison Style Bulbs!" There's a dimmer switch on the cord to adjust glow of all bulbs simultaneously.


Photos © DanCordero

These upcycled designs are each a statement in their own way and do look good in any home or office.
Since you're here …
I have a small favor to ask. Thousands are visiting upcycleDZINE for upcycle design inspiration every month. Readers in more than 100 countries around the world are now able to support financially.
upcycleDZINE is a completely independent niche site, is very work-intensive, and offers tons of unique information for free.
To keep upcycleDZINE running, I'm asking you for your support.
Your contribution will allow me to:
– meet the hosting costs
– upgrade to keep track of traffic increases
– add new content, and keep improving the older content
– add new functionalities to this site
– improve how it works and how it looks
– and last but not least, my daily dose of coffee 🙂
Again, all contributions will be reinvested into the aforementioned associated costs of running this blog and will help ensure the ongoing quest for quality upcycle design.
Your kindness and generosity will be greatly appreciated and will give me the motivation to continue.
Every contribution, however big or small, is so valuable for the future of upcycleDZINE.
Support today from as little as $2 – it only takes a minute. Thank you.