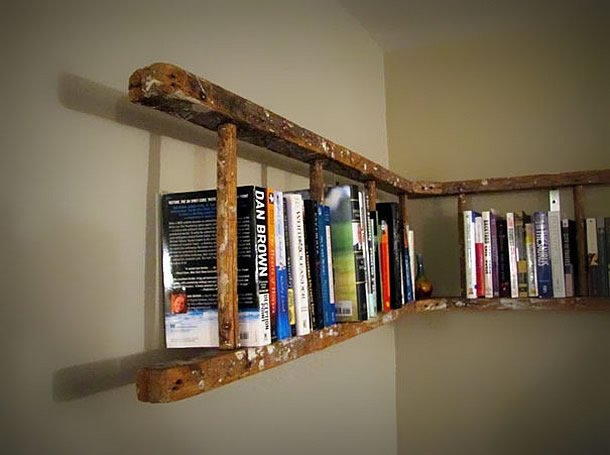 On upcycleDZINE I've shown upcycle design pieces that were made from books like LIGHT READING by Lula Dot, Atlas Book Lamp by Bomdesign, Wine Book Lampshade by lightreading and Stacked Books Table Lamp by Dan Faires. And I can imagine that book lovers were not to happy seeing those designs.
Now I'm finally featuring a design that should appeal to those who like books. It's a fantastic, character showing, vintage ladder bookshelf by Naturally Cre8tive. An Etsy store run by Dave and Kelsey, based in Bangor, Main, United States.
Show of your books on a unusual bookshelf
"Another of our favorites! We salvaged this fantastic rustic ladder and turned it into a corner bookshelf. Whether you have a large collection of books, or are just starting a small one, this shelf will be a great fit for you. It ads instant warmth and charm to a room (I know, I have one in my living room too!) and is a fantastic conversation piece."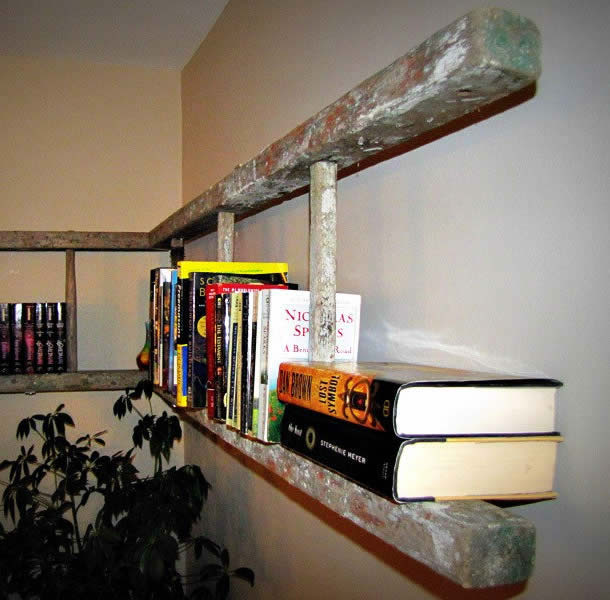 Photos © Naturally Cre8tive

The shelf is sturdy enough to hold even your largest books, and the brackets are strong enough to hold up more weight then will ever be necessary (provided they are anchored the right way).
At Naturally Cre8tive they don't only want to sell quality and craftsmanship, but they also do a generous thing worth mentioning. They want to make a difference in the world by donating 10% of each and every sale to their favorite charities. They also like to here suggestions for other charities.