For those of you who don't know it by now, a wine barrel is such a great object to upcycle. After 3 to 5 vintages the barrel is ready to be discarded and that's when upcycle design comes in to play. On upcycleDZINE I've shown the unique BARRIQUE project by San Patrignano, with designs like 'Miss Mondola' by Angela Missoni and DOC by Marc Sadler. Another example is the 'Barrel scooter' by IS-productdesign.
This time a design that uses the steel hoops, just like Orbits. One again Stil Novo Design came up with a stunning design, called 'Vortex'. Stil Novo Design is founded by Camilla And Stefano and based in Grass Valley, California | United States.
Impressive chandelier out of Wine barrel hoops
Vortex is another example of craftsmanship. The exclusive Vortex ceiling lamp, a unique chandelier has been crafted by connecting several steel hoops in a very clever way. The hoops are recycled from discarded French oak wine barrels. Vortex has a nice transparent design and a beautiful way it casts shadows on walls and ceiling.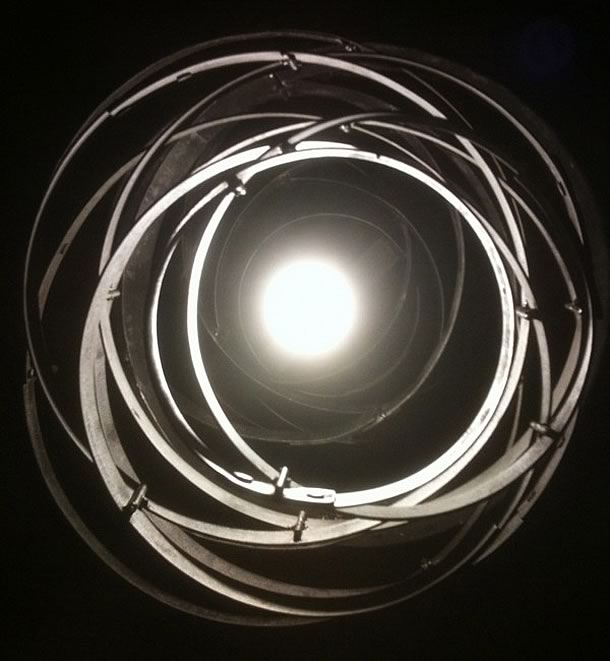 Photos © Stil Novo Design

Stil Novo Design's is a family business (mamma, papi & twins!) located in California where they design and manufacture all of their creations; their philosophy has always been 'artistry and attention to detail'.
"We love the fact that we are able to help the environment by recycling the raw material and to turn it into an object of 'practical elegance' at the same time."
Want to see what else they sell? Please visit their Etsy shop StilNovoDesign