Remember a few posts back where I wrote about upcycle design and art being recognisable and fun. And that's why upcycling is so interesting. Usually upcycle design is fascinating because one recognises the upcycled material or object and the story it tells.
And the art / design pieces you're seeing in this post are no exception. They are all fantastically assembled sculptures showing a versatility of parts, but all with the same look and feel.
Industrial design reused and rearranged
The creations are made by painter and a visual artist Pierre Kucoyanis. He got his education at the Beaux-Arts in Paris and also founded Motor-Lights, where you can find his amazing lamp collection.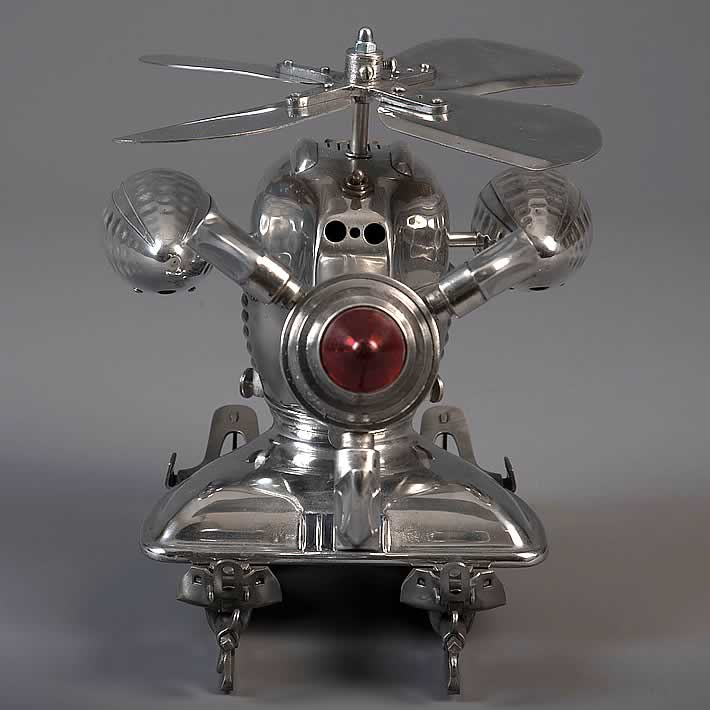 These creations would not have been out of place in one of those science fiction or hero movies from the fifties with their shiny flying machines. Pierre took apart old motorbikes, vacuum cleaners, three wheeled skates and other old industrial objects. After that he reused and upcycled them by creating impeccable arrangements.


Pierre Kucoyanis:
"The pieces that make up these objects are a tribute to the industrial design of the post-war period, their round shapes in cast aluminum regain their luster and can once again parade in an environment they re-enchant."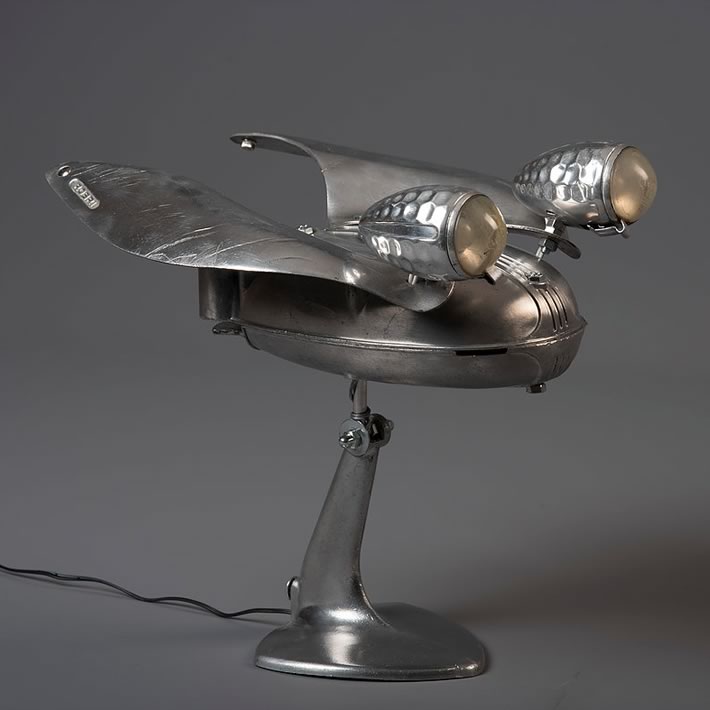 Photos © Pierre Kucoyanis

Kucoyanis is a fan of old motorcycles and jazz and this is expressed in joyful improvisations all made in his studio in the Chevreuse Valley, Paris region | France.
Several of his creations remind me of those metal airplane models on a stand my dad used to have on his desk. In a way they are just like big toys, but very special and unique.
Design by Pierre Kucoyanis | Motor-Lights
Since you're here …
I have a small favor to ask. Thousands are visiting upcycleDZINE for upcycle design inspiration every month. Readers in more than 100 countries around the world are now able to support financially.
upcycleDZINE is a completely independent niche site, is very work-intensive, and offers tons of unique information for free.
To keep upcycleDZINE running, I'm asking you for your support.
Your contribution will allow me to:
– meet the hosting costs
– upgrade to keep track of traffic increases
– add new content, and keep improving the older content
– add new functionalities to this site
– improve how it works and how it looks
– and last but not least, my daily dose of coffee 🙂
Again, all contributions will be reinvested into the aforementioned associated costs of running this blog and will help ensure the ongoing quest for quality upcycle design.
Your kindness and generosity will be greatly appreciated and will give me the motivation to continue.
Every contribution, however big or small, is so valuable for the future of upcycleDZINE.
Support today from as little as $2 – it only takes a minute. Thank you.