Almost all posts on upcycleDZINE show finished upcycle design products or DIY projects. But today it's all about creating your own upcycle design furniture, a table. A sort of DIY, but without needing a tutorial. It's an incredibly simple system for making your own table out of any surface you would like to upcycle. You can create your own unique piece of upcycle design furniture.
Change the style of your table anytime
So what am I talking about? Well, it's a leg-system called SNAP, designed by Maria Roca and Erika Biarnes. They founded design company Be-elastic, based in Miami | United States. They graduated in Architecture from ESARQ in Barcelona. The system uses steel clips, in a way like paperclips. And in these clips you can easily attach any surface you like that has a flat edge. It can be attached to boxes, doors, shelves or even a dartboard or bicycle wheel. Maria and Erika had the same frustration from their travels. They wanted furniture that could adapt to changes in their lifestyle. And so they got the idea for SNAP and started a very successful Kickstarter campaign.

With SNAP you are able to create a unique piece of furniture with many different functions in a very simple way. You don't need to drill a hole, it's portable and you can change the style or function of your table anytime to give a new look to your interior.
"With two SNAPs and a wooden box, for instance, you can create a nice piece of furniture. Attach the two SNAPs on one side of the box, let the other side rest against a wall, and there you are: you got a new nightstand! Put your stuff on it without fear, the stand will bear it. Rest on it all your weight; it will not drop down." Four SNAPs can bear a 154 lb/98 kg load, as long as the board can also bear the weight.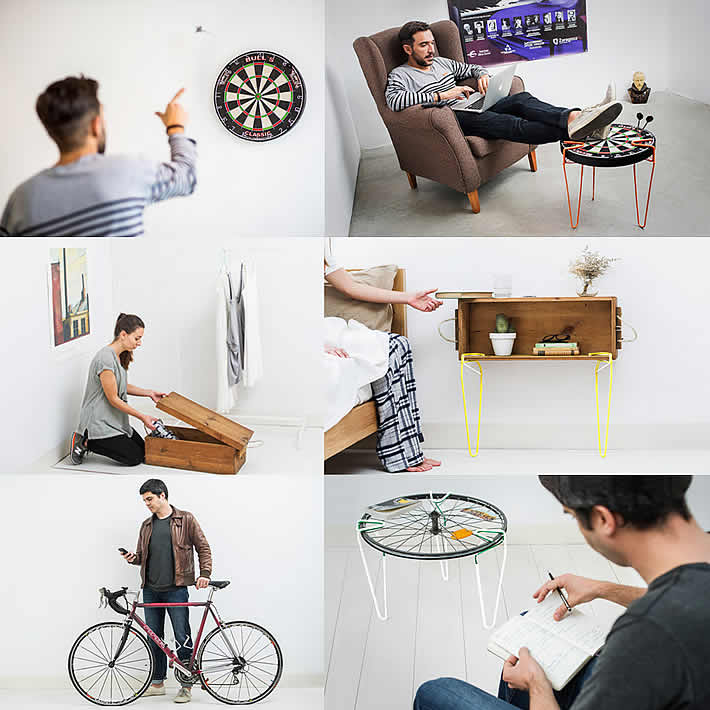 "Not only does SNAP make great tables, but you can also stack several levels on top of each other to safely make shelves! Simply place the base of the legs in the V-shaped wedges on top of the table. The V shape will prevent the different levels from slipping and falling, and within minutes you'll have your own personalized shelves in your living space."
Photos & video © Be-elastic

After looking at SNAP and seeing some videos I'm really amazed about the many possibilities and simplicity of the system. Looking at the Kickstarter campaign it seems that I'm not the only one who is enthusiastic about SNAP.
Since you're here …
I have a small favor to ask. Thousands are visiting upcycleDZINE for upcycle design inspiration every month. Readers in more than 100 countries around the world are now able to support financially.
upcycleDZINE is a completely independent niche site, is very work-intensive, and offers tons of unique information for free.
To keep upcycleDZINE running, I'm asking you for your support.
Your contribution will allow me to:
– meet the hosting costs
– upgrade to keep track of traffic increases
– add new content, and keep improving the older content
– add new functionalities to this site
– improve how it works and how it looks
– and last but not least, my daily dose of coffee 🙂
Again, all contributions will be reinvested into the aforementioned associated costs of running this blog and will help ensure the ongoing quest for quality upcycle design.
Your kindness and generosity will be greatly appreciated and will give me the motivation to continue.
Every contribution, however big or small, is so valuable for the future of upcycleDZINE.
Support today from as little as $2 – it only takes a minute. Thank you.