No Waste Chair is a chair that is full of upcycled waste, made and invented by furniture maker and designer Kees Dekkers from Brummen. He wants to give a second life to the trash that is thrown into nature, among other things. Dekkers: "I saw all the waste and wanted to give it a new purpose. So I created and designed the No Waste Chair. A chair that displays waste enclosed in a small case, like a chair." The transparent enclosure of the chair is made of recycled Plexiglas.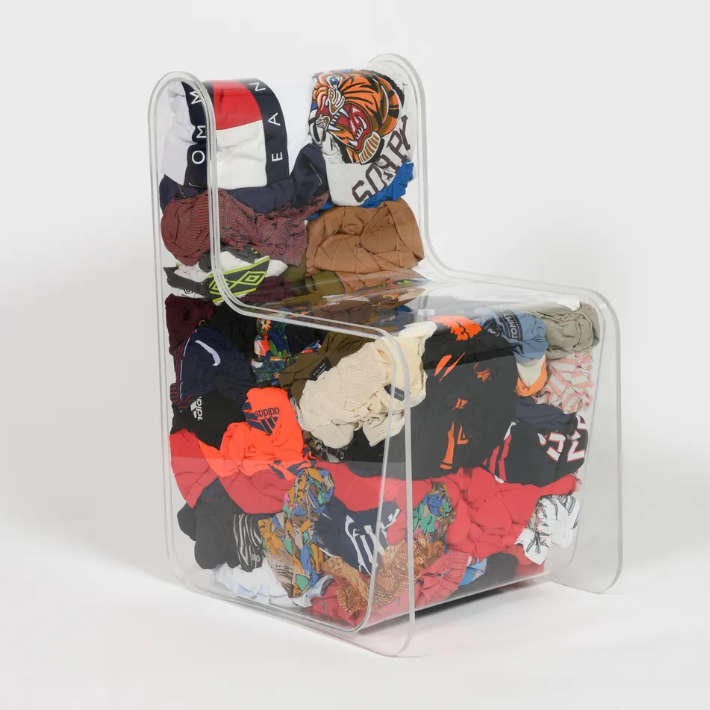 Waste problem
NoWasteChair is the icon of the global waste problem embodied in a very innovative, powerful upcycle design solution. The chairs show what we have not yet committed to considering waste. With a different entailment in each one, every chair has a story to share.
Dekkers: "Our waste problem is a versatile and multi-headed monster. The ease of returning if something is not quite to your liking, the ingenious get-3 and pay-2 campaigns quickly built by brands, the convenience of all the extra packaging and bags with everything we buy, and our negligent throwing away behavior that pollutes nature and the overproduction of makers."
Awareness
Each chair design gives you an awareness of these many different causes and invites you to see waste differently. No Waste Chair beautifully and enchantingly shows the uncomfortable story of waste by displaying the designs at events and with major brands. But also through awareness campaigns at schools and at companies that fill the No Waste Chair with residual streams.
Kees Dekkers:
"No Waste Chair symbolizes the challenge of taking the waste problem seriously every day."
Using trash
Even though Dekkers needs trash for his project, he hopes that people will think about how to use their trash. "It's really not that difficult, all you have to do is throw it in a garbage can." At schools, Dekkers tries to increase awareness about waste by making their own No Waste Chair with students.
Kees Dekkers has translated the uncomfortable waste problem into a chair by upcycling trash. It is a beautiful and attractive design that makes you feel uncomfortable.
Design by Kees Dekkers | No Waste Chair
Since you're here …
I have a small favor to ask. Thousands are visiting upcycleDZINE for upcycle design inspiration every month. Readers in more than 100 countries around the world are now able to support financially.
upcycleDZINE is a completely independent niche site, is very work-intensive, and offers tons of unique information for free.
To keep upcycleDZINE running, I'm asking you for your support.
Your contribution will allow me to:
– meet the hosting costs
– upgrade to keep track of traffic increases
– add new content, and keep improving the older content
– add new functionalities to this site
– improve how it works and how it looks
– and last but not least, my daily dose of coffee 🙂
Again, all contributions will be reinvested into the aforementioned associated costs of running this blog and will help ensure the ongoing quest for quality upcycle design.
Your kindness and generosity will be greatly appreciated and will give me the motivation to continue.
Every contribution, however big or small, is so valuable for the future of upcycleDZINE.
Support today from as little as $2 – it only takes a minute. Thank you.