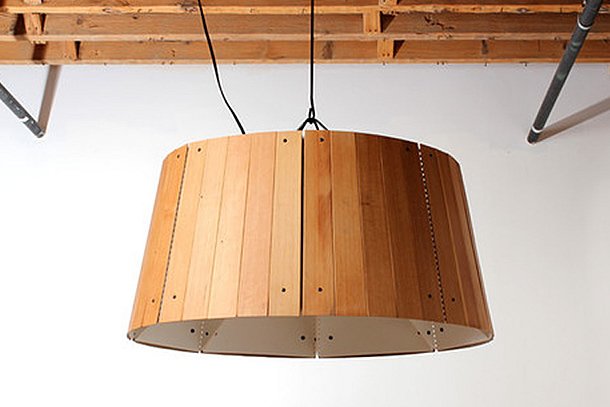 Sometimes when I bring my garden trash and other stuff to the recycle centre I wonder what people will be throwing away this time. Lots of  times you'll see people getting rid of old wooden floorboards. I for one don't know what to do with them, but luckily others do know. Like Sharon and Ted Burdett from STRAND design based in Chicago.

In accordance to their philosophy they create objects from sustainably sourced and locally manufactured materials. And they came up with a design called 'The Refold Lamp', a product made by using reclaimed and recycled materials.
How old floorboards can surround a center of light
"In this project, we wanted to show the exquisite detail in reclaimed, old growth Douglas Fir in the format of a large, dramatic light. We cut our own veneers from salvaged floorboards, and glued them up into flexible panels with a fabric backing. We then attached the veneer panels to a modular lighting structure that we cnc cut out of recycled HDPE."
When you see these used floorboards you wouldn't image one would make such a beautiful lamp using them. This is again proof of what can be done by using discarded or thrown away items and materials.