On upcycleDZINE you've seen upcycle design made out of discarded and old skateboards. But I don't think I've featured a vintage skateboard yet. Well that's about to change, because I bumped into a design that uses one of the oldest skateboard brands. It's a board by the Roller Derby Skate Company, they produced, according to WikipediA, "the first mass-produced 'Skate Board'. Roller Derby made this skateboard in their La Mirada, California factory, and it was available nationwide at Roller Derby arenas in 1959."
Skateboard as part of an ode to the past
And now on to the design that uses this fantastic old board. It's an amazing and fun upcycle design wall or ceiling lamp designed by Re'em Eyal | Studio ORYX that uses several old objects. "The design consists of a vintage Roller Derby skateboard, 2 small wooden lasts, metal rods that were air brushed with car paint, and last but not least in this long list- 2 old military aluminum shades that were sand blasted."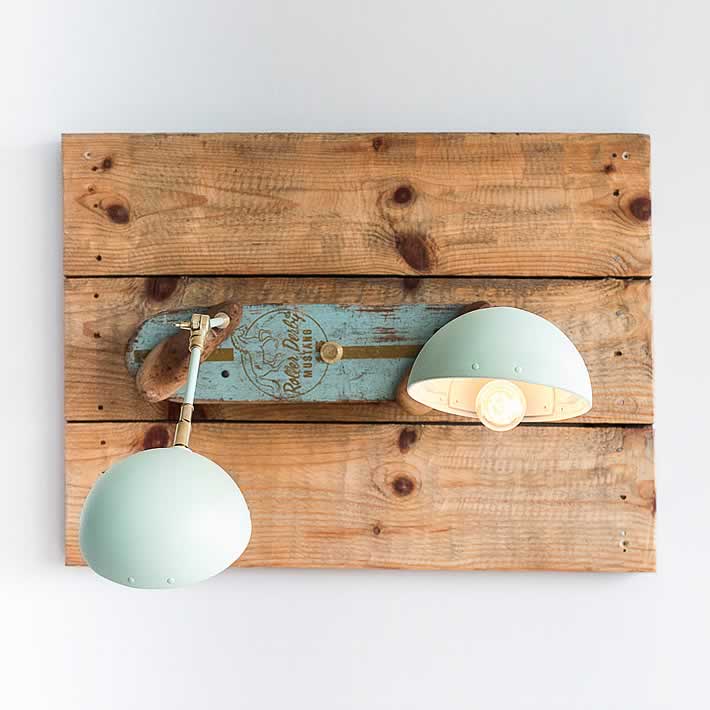 In the photos the lamp is wall mounted, but can easily be mounted to a ceiling as well. The arms are adjustable, and the shade can be tilted and twisted 180 degrees.
I really like the way it uses wooden lasts. A last is an object with so much character. I think lots of kids don't even know that a last was used by shoemakers to manufacture and repair shoes.
Re'em Eyal: "I do find the beauty and aesthetics in the things that other people classified as junk. From this useless junk I try to give a new meaning to the materials I buy in the Flea markets."


Photos © Studio ORYX

The studio was established in 2009, Tel Aviv | Israel, by Re'em Eyal with aesthetics as main guideline. Every product is hand crafted, and receives a unique twist to its original use. "I love seeing the story of the product, and what it went through the passage of time, whether it's a small dent, or a spot of rust."
Studio ORYX has sort of trademark for using wooden lasts. Just look at their previous featured design, Vintage Roller Skates lamp, on upcycleDZINE. And this time again, just like in other designs by Studio ORYX, it shows a beautiful ode to the past.
Take a moment and visit their Etsy shop to see the complete collection.
Since you're here …
I have a small favor to ask. Thousands are visiting upcycleDZINE for upcycle design inspiration every month. Readers in more than 100 countries around the world are now able to support financially.
upcycleDZINE is a completely independent niche site, is very work-intensive, and offers tons of unique information for free.
To keep upcycleDZINE running, I'm asking you for your support.
Your contribution will allow me to:
– meet the hosting costs
– upgrade to keep track of traffic increases
– add new content, and keep improving the older content
– add new functionalities to this site
– improve how it works and how it looks
– and last but not least, my daily dose of coffee 🙂
Again, all contributions will be reinvested into the aforementioned associated costs of running this blog and will help ensure the ongoing quest for quality upcycle design.
Your kindness and generosity will be greatly appreciated and will give me the motivation to continue.
Every contribution, however big or small, is so valuable for the future of upcycleDZINE.
Support today from as little as $2 – it only takes a minute. Thank you.