Sometimes upcycle design reminds me of a movie character or animal. And if it does it's a good sign. That's because it means that the design has a certain fun factor. And I've said it many times before, upcycle design is great but it's even better if it makes you smile.
Personally I think that today's featured design called 'Light Up' has that fun factor. To me the upcycle design reminded me of a Meerkat in the way it stands out and is looking around. You must have seen pictures or in the zoo of those fantastic Meerkats standing on their hind legs to see if there is a threat.
Bicycle headlight shines like never before
Anyway, it doesn't matter if you see the resemblance or not, the design is still simple and fun. Light Up is a desk lamp designed by The Upcycle, a company founded in 2012 and based in Amsterdam | The Netherlands.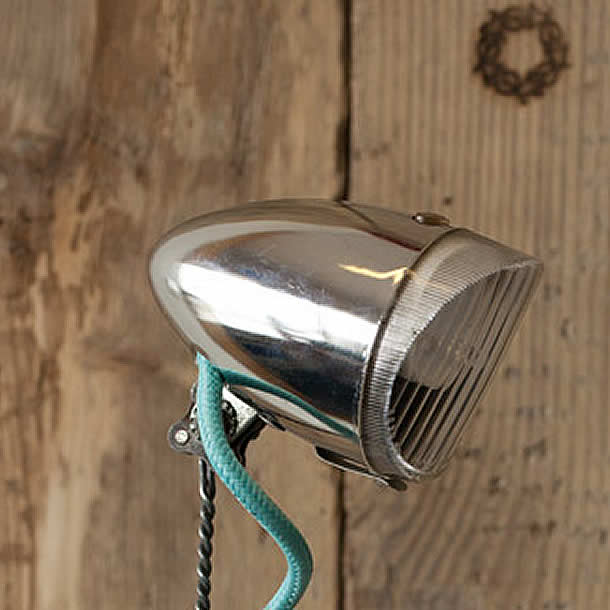 The lamp part is an old bicycle headlight that has such a characteristic shape. Last week I showed you Cabinet 2CV with the doors from an old Citroen 2CV. The headlight and the car are quite similar in the fact that they both have a classic and recognizable design.
"The Light Up is a unique desk lamp which is almost entirely made up of used bicycle parts. The base is made from recycled wood, with around it a woven inner tube. With the help of a nifty piece of bicycle chain, intertwined wheel spokes, and an used old head light, you have the recipe for a versatile adjustable groovy desk lamp, Light Up." The lamp uses a led light that produces a warm white light and is available in three different colored cords.


Photos and video © The Upcycle

The Upcycle is founded by Hidde & Lo (Hidde Van Der Straaten & Lodewijk Bosman). On their site it says: "With a 'Work hard, play hard, enjoy life' mentality they both strive for life." They want to make the world a bit more 'hilarious and beautiful where it was deemed lost and wasted'.
Besides the production of The Upcycle Family products, like belts, lamps, and bracelets, they also make other products from bicycle waste. They also produce Upcycles. These are bicycles made from old bicycle parts. For the production, The Upcycle reaches out to social workplaces. This way we provide social workplaces with job opportunities and an alternative means of income. The added benefit: by staying local we eliminate unnecessary transport distances.
By turning bicycle waste into something useful, 'groovy' and new they want to show that waste is not per definition waste, it's a matter of perspective. And that's a great way of looking at waste. A way that I can support and endorse. Let's spread the word!