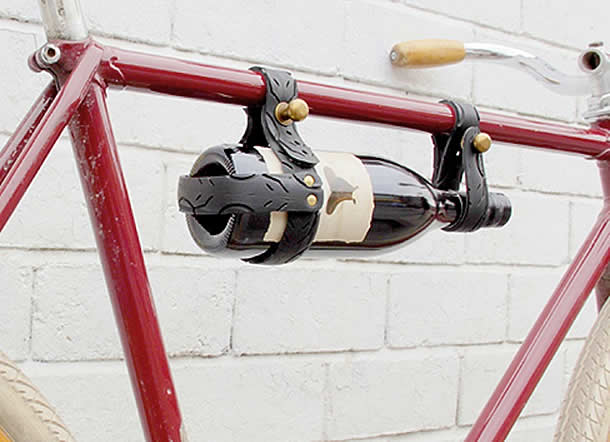 Well, today's featured design is for those who like to take their bicycle for a ride and love a bottle of wine. Let me start by telling you that this upcyle design is something I never thought of. I like to ride my bike and I do love wine. But having a wine rack on my bicycle?
Easily attachable unique wine rack
Yes I'm talking about a one bottle wine rack on your bike, the 'Recycled Bicycle Wine Rack'. And this cool upcycle design is made out of used bicycle tyres. The design is by oopsmark, founded by Jesse Herbert and based in Montréal | Canada. "The Recycled Bicycle Wine Rack is handmade from recycled bicycle tyres so, on top of your cycling, you'll be saving even more carbon emissions.ᅠIt easily attaches to most bike frames with antique brass fasteners to hold your bottle securely so you can transport your wine and enjoy the ride."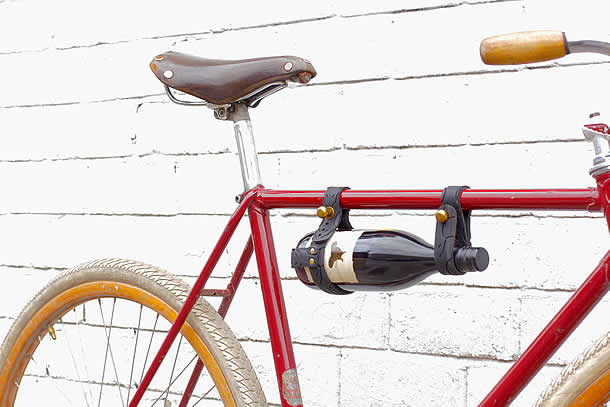 Photos © oopsmark

When I saw this product for the first time it really made me smile, because who would have thought of this. But then it made more and more sense. I don't know about you, but in my life there have been occasions where I went to a party and I wanted to take a bottle of wine with me on my bike. There was always a way to do this, but it was never a comfortable ride. So seeing this and the fact that it's even an upcycle design product made me want to show this stunning and great way to carry a wine bottle around on your bike.
Jesse had already a beautiful leather version but this recycled one is great for everybody who's looking for an animal-friendly solution.
Since you're here …
I have a small favor to ask. Thousands are visiting upcycleDZINE for upcycle design inspiration every month. Readers in more than 100 countries around the world are now able to support financially.
upcycleDZINE is a completely independent niche site, is very work-intensive, and offers tons of unique information for free.
To keep upcycleDZINE running, I'm asking you for your support.
Your contribution will allow me to:
– meet the hosting costs
– upgrade to keep track of traffic increases
– add new content, and keep improving the older content
– add new functionalities to this site
– improve how it works and how it looks
– and last but not least, my daily dose of coffee 🙂
Again, all contributions will be reinvested into the aforementioned associated costs of running this blog and will help ensure the ongoing quest for quality upcycle design.
Your kindness and generosity will be greatly appreciated and will give me the motivation to continue.
Every contribution, however big or small, is so valuable for the future of upcycleDZINE.
Support today from as little as $2 – it only takes a minute. Thank you.