upcycleDZINE shows what upcycle design is all about. And luckily more and more people are getting into this environmentally friendly design. Redesigning the form and function of a material or object is a thing that attracts a lot of people. There are also people who say for instance one should try to repair an old chair instead of cutting it into pieces for a completely new and different design. But maybe there's some upcycle design that they might like.
I'm talking about cutting up a chair and transforming it into another piece of furniture. Like Multiple Multiple Family by Jetske de Groot and today's featured bench.
One-of-a-kind bench
The bench is called 'Greene Ave. Bench', created by a furniture company called 31 & Change, based in Chicago | United States. The company is founded and run by graphic designer and Creative Director Kurt Lenard. "Bastard chairs are a dime a dozen and we tend to cast them off into purgatory all too often. The Greene Ave. collection is a project that rescues these orphan chairs and upcycles them into a one-of-a-kind bench for your entrance way, dining table or backyard patio."


Each bench is made out of three contrasting chairs from different eras to form a new contemporary piece. The benches can have three chairs facing the same direction or a chair facing backwards. All benches are unique because of the chairs, size, shape and colors used.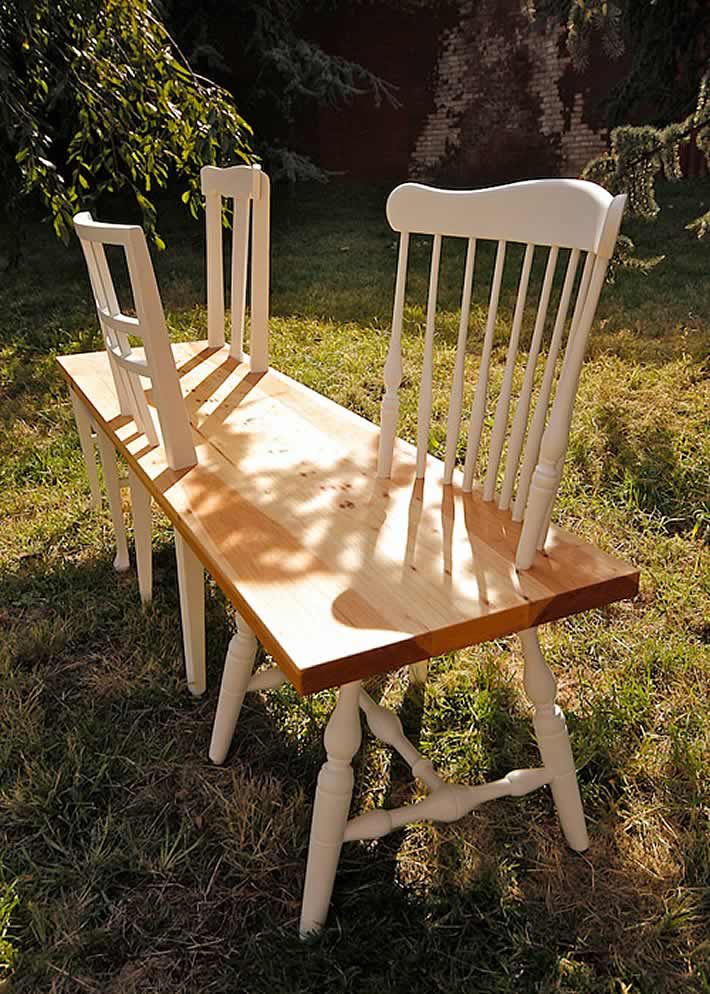 "We create one-of-a-kind pieces and limited run production pieces. Each piece created has its own unique graphic expression, whether seen through the wood grain, the juxtaposition of color or the combination of materials. Every piece is built with the highest regard for craftsmanship and quality so that not only you but your future generations can enjoy it as well."


Photos © 31 & Change

Searching the web for upcycle design I've come across several other benches that are made out of upcycling old chairs. But the ones by 31 & Change show true craftsmanship. Each piece is hand crafted from American hardwoods and built in the company's Chicago studio. And if you've got any doubts about how much the company cares about our environment, well you should know about their 31 & trees approach. For every piece of furniture they sell, and you buy, they will donate 2 trees (one for you, one for them) to plantabillion.org. "It's our way of giving back to something that has given us so much."
Last but not least, I really like it that 31 & Change designs with a twist, a wink and a smile in mind. The often on upcycleDZINE mentioned 'fun factor'.
Do visit their website to see all other designs.