Almost two years ago I started upcycleDZINE. And during this period many upcycle design pieces have been featured. From beautiful to stunning and everything in between. Lighting and furniture are by far the largest categories. And in the furniture category you will find lots of incredible chairs. Chairs made out of different discarded objects or out of old and used materials. Chairs made out of candy wrappers, a radiator, seatbelts, shopping carts, skate boards and even an ironing board. It's almost like you name it and it's been done.
But time and time again I stumble upon a chair that hasn't been featured here and really deserves to be on upcycleDZINE. And today is a day that I want to show you such a chair, or even better collection, that has to be featured on this blog.
Family of chairs with a special kind of value
Last week, surfing the web, I came across upcycle design chairs that are truly unique and I think breathtaking. We all have seen broken chairs or parts of chairs being thrown away. And between all the upcycle design chairs I've seen there hasn't been one that used these broken chairs in the way today's featured designer does.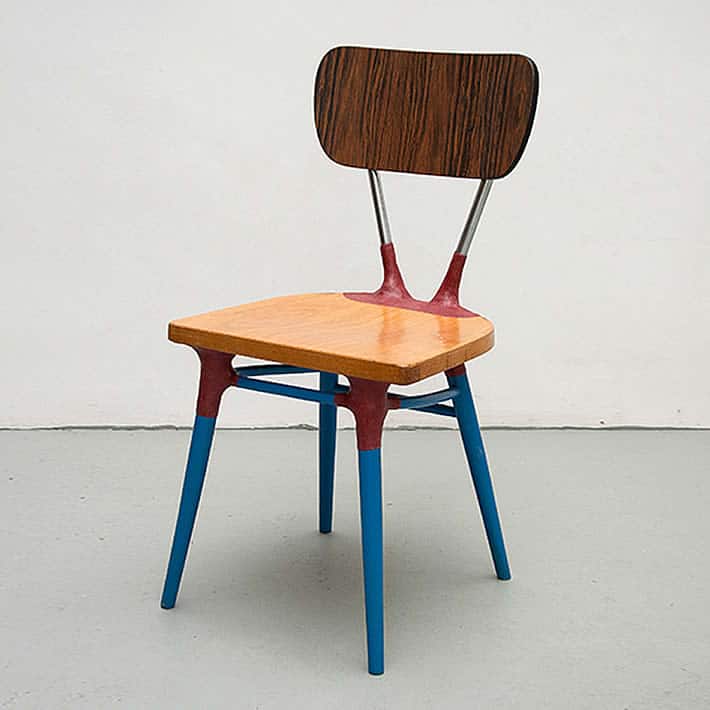 Dutch designer Jetske de Groot designed a collection of chairs called 'Multiple Family' using these old and broken chairs. She takes these chair parts and old chairs and disassembles them. After doing this Jetske upcycles the parts by constructing new chairs. Her work is partly determined by the available materials. "In a world in which so much is produced I try to be conscious and think about what I want to add to this. What is the designers role in a world that already contains so many products? Trying to answer this question, I created the Multiple Family."


Customers can influence how a piece of furniture should look by contributing a chair of their own. Jetske always tries to incorporate the history of a chair. "People attach a special kind of value to their own used furniture. Integrating these pieces into a new design results in surprising and beautiful pieces. I use the materials exactly as I find them. The parts are beautiful like this, because they contain the traces of the people who used them in the past: I'm not going to erase these."


Photos © Jetske de Groot

And not erasing those traces is exactly what makes these upcycle design pieces so interesting. They all show originality and character. Something that you won't even find in contemporary or mainstream design. And that's why upcycle design stands out!
Since you're here …
I have a small favor to ask. Thousands are visiting upcycleDZINE for upcycle design inspiration every month. Readers in more than 100 countries around the world are now able to support financially.
upcycleDZINE is a completely independent niche site, is very work-intensive, and offers tons of unique information for free.
To keep upcycleDZINE running, I'm asking you for your support.
Your contribution will allow me to:
– meet the hosting costs
– upgrade to keep track of traffic increases
– add new content, and keep improving the older content
– add new functionalities to this site
– improve how it works and how it looks
– and last but not least, my daily dose of coffee 🙂
Again, all contributions will be reinvested into the aforementioned associated costs of running this blog and will help ensure the ongoing quest for quality upcycle design.
Your kindness and generosity will be greatly appreciated and will give me the motivation to continue.
Every contribution, however big or small, is so valuable for the future of upcycleDZINE.
Support today from as little as $2 – it only takes a minute. Thank you.