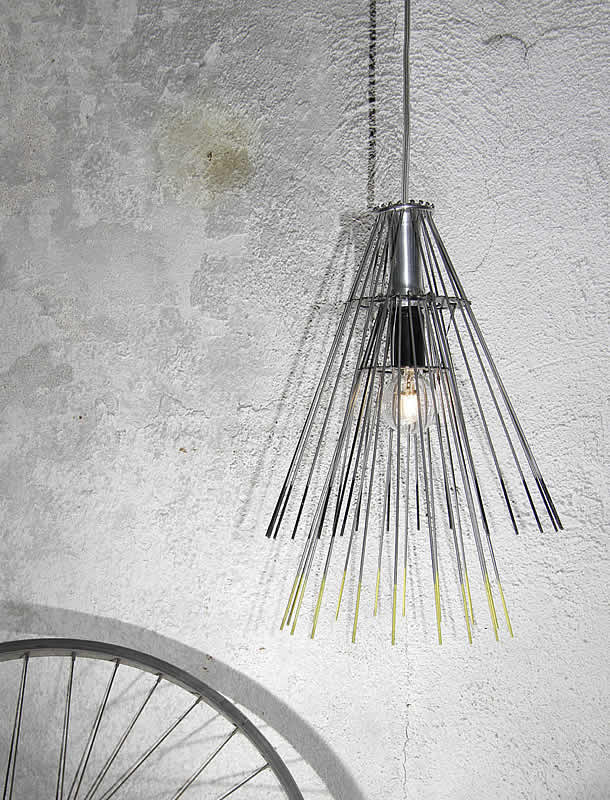 And for all bicycle lovers, another upcycle design made with bicycle parts. The most important part that's used for this design is the wheel. On upcycleDZINE there have been several design pieces that made use of a bicycle wheel, but this time the outer ring was removed. This pendant lamp is called 'Hawaii Lamp' and is designed by  Transfodesign, based in Barcelona | Spain.
From bicycle spokes into high tech umbrella like lamp
All parts are joined together using their original shapes and holes, apart from the sprocket-wheels, that are held together by three stainless steel strings and six rivets.
The neat thing about this lamp is that it not only uses the bike parts, but it is completely assembled using the wheel's original shapes and holes. So now the spokes are the main piece of attraction. All the bicycle wheel spokes together look like an umbrella hanging from the ceiling which gives it such a unique look.

Photo © Transfodesign

"Transfodesign is a creative organization that follows two main principles in its operation:
Create design through transformation (residues, obsolete objects, natural elements, construction debris) and Transform through design (people, work spaces, lifestyles, conscience, policies, societies, urban settlements). Everyone at Transfodesign is guided by the belief that everything can be given a second life by transformation. To us, design is a problem solving tool. Every person is a designer, every product and problem can be either defined or solved by design approach. Employing the already established Cradle to Cradle and the 3Rs (reduce, reuse and recycle) concepts, Transfodesign gives life to used goods to bring value designer items to the market. Our goal is to explore these methods and extend further their application. Therefore, we seek for the application of upcycling and creative reuse in architecture, landscape design, urban interventions, industrial design, production etc."
Since you're here …
I have a small favor to ask. Thousands are visiting upcycleDZINE for upcycle design inspiration every month. Readers in more than 100 countries around the world are now able to support financially.
upcycleDZINE is a completely independent niche site, is very work-intensive, and offers tons of unique information for free.
To keep upcycleDZINE running, I'm asking you for your support.
Your contribution will allow me to:
– meet the hosting costs
– upgrade to keep track of traffic increases
– add new content, and keep improving the older content
– add new functionalities to this site
– improve how it works and how it looks
– and last but not least, my daily dose of coffee 🙂
Again, all contributions will be reinvested into the aforementioned associated costs of running this blog and will help ensure the ongoing quest for quality upcycle design.
Your kindness and generosity will be greatly appreciated and will give me the motivation to continue.
Every contribution, however big or small, is so valuable for the future of upcycleDZINE.
Support today from as little as $2 – it only takes a minute. Thank you.