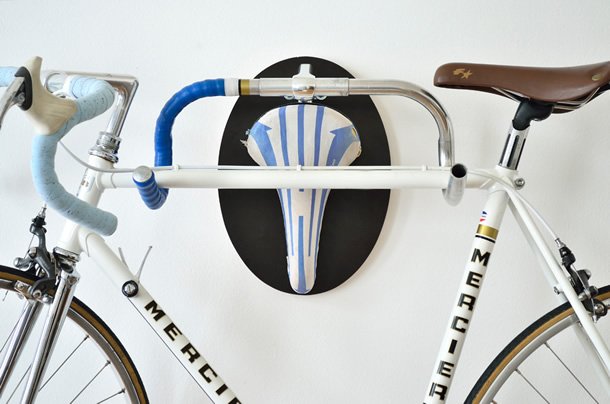 Bicycle time agian. Like I said before, bicycle parts can be used for a lot of upcycle design pieces. The wheels, chains and inner tubes have been shown here on upcycleDZINE. And this time a look at handlebars and saddles.
Austrian designer Andreas Scheiger, created the 'Upcycle Fetish'. A rack to hang your bicycle or everyday object on and it's built from cleaned up handlebars and saddles. He was inspired by Pablo Picasso's 'Bull Head' [Cabeza de Toro] sculptures, and gave it a twist by adding a 'hunting trophy' touch.
Besides being used to suspend everyday objects, they are also very decorative. It's not the first time I've seen 'bull heads' made out of bicycle parts, but making it look like a hunting trophy gives it definitely something extra.

Bicycle parts hanger becomes a true trophy
Andreas Scheiger: "The idea for the Upcycle Fetishes popped up while visiting a bicycle flea market. I started collecting discarded saddles, stems and handlebars from dumps, scrap dealers and used bike workshops. I invested in a Bosch router and learned how to mill the mounting plate from wood leftovers. When I was half through the cleaning, milling, screwing and filing I found that Pablo Picasso has had the same idea with his "Cabeza de Toro". But whereas Picasso crafted a piece of art, I wanted my fetishes to serve a purpose. Originally I planned to build bicycle hangers but not all of the stems and handlebars were suited for this. In the end, the result is an array of 'fetish hangers' with each hanger assembled to carry heavy load. See the whole set on Behance."


Photo © Andreas Scheiger