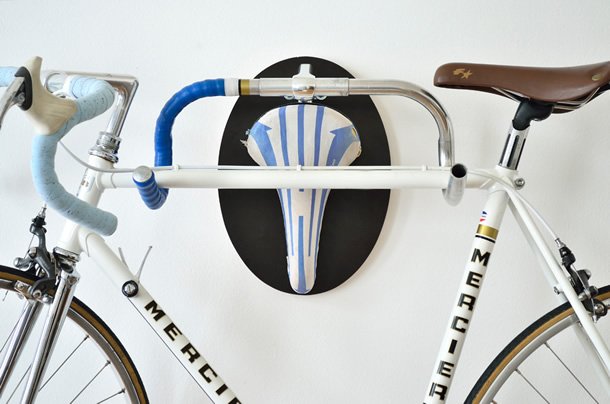 Bicycle time agian. Like I said before, bicycle parts can be used for a lot of upcycle design pieces. The wheels, chains and inner tubes have been shown here on upcycleDZINE. And this time a look at handlebars and saddles.
Austrian designer Andreas Scheiger, created the 'Upcycle Fetish'. A rack to hang your bicycle or everyday object on and it's built from cleaned up handlebars and saddles. He was inspired by Pablo Picasso's 'Bull Head' [Cabeza de Toro] sculptures, and gave it a twist by adding a 'hunting trophy' touch.
Besides being used to suspend everyday objects, they are also very decorative. It's not the first time I've seen 'bull heads' made out of bicycle parts, but making it look like a hunting trophy gives it definitely something extra.

Bicycle parts hanger becomes a true trophy
Andreas Scheiger: "The idea for the Upcycle Fetishes popped up while visiting a bicycle flea market. I started collecting discarded saddles, stems and handlebars from dumps, scrap dealers and used bike workshops. I invested in a Bosch router and learned how to mill the mounting plate from wood leftovers. When I was half through the cleaning, milling, screwing and filing I found that Pablo Picasso has had the same idea with his "Cabeza de Toro". But whereas Picasso crafted a piece of art, I wanted my fetishes to serve a purpose. Originally I planned to build bicycle hangers but not all of the stems and handlebars were suited for this. In the end, the result is an array of 'fetish hangers' with each hanger assembled to carry heavy load. See the whole set on Behance."


Photo © Andreas Scheiger

Since you're here …
I have a small favor to ask. Thousands are visiting upcycleDZINE for upcycle design inspiration every month. Readers in more than 100 countries around the world are now able to support financially.
upcycleDZINE is a completely independent niche site, is very work-intensive, and offers tons of unique information for free.
To keep upcycleDZINE running, I'm asking you for your support.
Your contribution will allow me to:
– meet the hosting costs
– upgrade to keep track of traffic increases
– add new content, and keep improving the older content
– add new functionalities to this site
– improve how it works and how it looks
– and last but not least, my daily dose of coffee 🙂
Again, all contributions will be reinvested into the aforementioned associated costs of running this blog and will help ensure the ongoing quest for quality upcycle design.
Your kindness and generosity will be greatly appreciated and will give me the motivation to continue.
Every contribution, however big or small, is so valuable for the future of upcycleDZINE.
Support today from as little as $2 – it only takes a minute. Thank you.