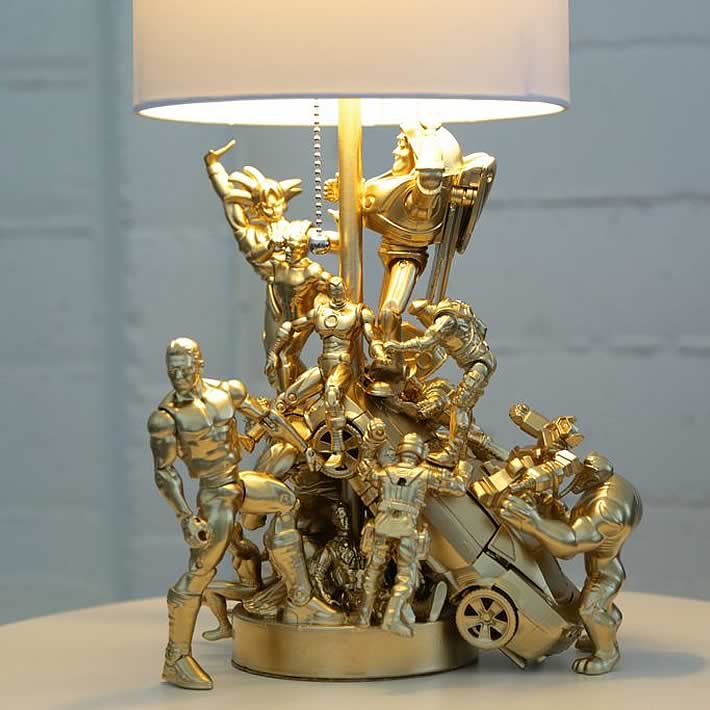 Who doesn't know those little and fun action figures? After a visit to McDonalds with kids one usually ends up with a few of those characters. Lots of kids have several to a whole bunch of action figures and even some adults collect them But with kids, after a certain age, these toys just tend to be lying around. When you go to a thrift store or secondhand market you'll find lots of them. So what could you make out of them?
Action figures frozen in time
Last week I stumbled upon a fantastic and fun to make upcycle design lamp. Yes a great DIY accompanied with a clear tutorial. This design is all about fun, not only the toys but also the end result and how to make it. The Action Figures Lamp is by Jessy Ratfink who is an active Intractables member. She once saw a photo of a action figure lamp years ago and immediately fell in love with it.

"This action figure lamp is a fairly quick and cheap project, and I love that the results are so dramatic with so little effort! Plus, it will be nice to have some geeky things around presented in a nicer fashion."
This upcycle design lamp was made by using a box full of action figures from Ebay and mainly a desk lamp stand, some spray paint and glue. "After doing this project, I have to say you'll have a much easier time using only figures made from a hard plastic. The cheaper ones made from more rubbery plastics don't glue or paint as well, but it is possible."

After seeing this lamp I feel terrible about selling a box of action figures last year for a cheap price. The new owner was happy, but if I still had them I would certainly turn them into my own action figures lamp. Or at least give it a try. Maybe you, dear reader, have some figures lying around to try it yourself. So check out the great DIY tutorial.

Photos © Jessy Ratfink

It looks like a really fun project. Especially styling the figures to give them the right stance. Looking at this shiny lamp it just looks like the action figures are frozen in time.