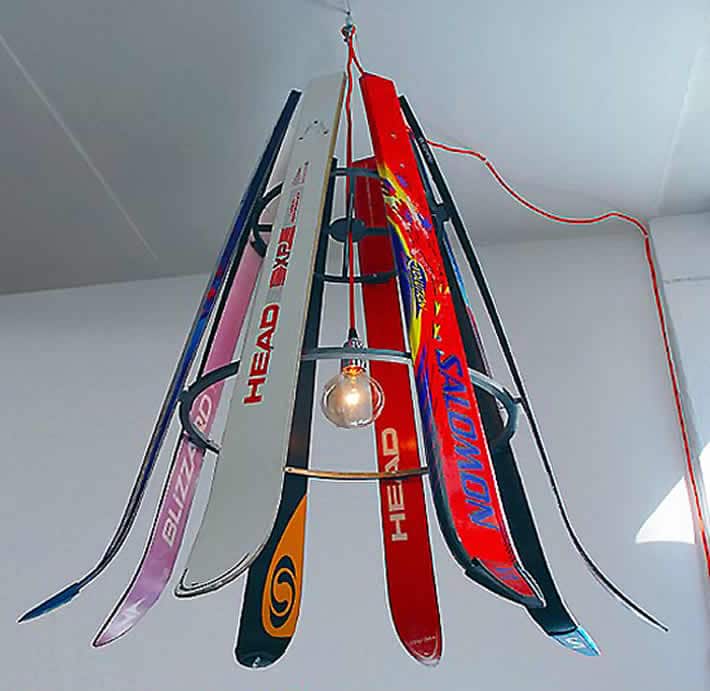 Here's another design that uses recycling, the 'Ski-Chandelier' by Willem Heeffer. Actually it's upcycling. Upcycling is the process of converting waste materials or useless products into new materials or products of better quality or for better environmental value. Well, this chandelier has certainly a better environmental value.

Photo © Willem Heeffer

Willem Heeffer was asked to design the new interior for Elamysmatkat, a Helsinki based travel agency. With the help of Elamysmatkat's many Facebook friends who donated their old ski's, he created the ski-chandelier. This colourful upcycled lamp serves as a great interior decoration for their office and it immediately shows what they are all about: fun, daring and winter sports!
Since you're here …
I have a small favor to ask. Thousands are visiting upcycleDZINE for upcycle design inspiration every month. Readers in more than 100 countries around the world are now able to support financially.
upcycleDZINE is a completely independent niche site, is very work-intensive, and offers tons of unique information for free.
To keep upcycleDZINE running, I'm asking you for your support.
Your contribution will allow me to:
– meet the hosting costs
– upgrade to keep track of traffic increases
– add new content, and keep improving the older content
– add new functionalities to this site
– improve how it works and how it looks
– and last but not least, my daily dose of coffee 🙂
Again, all contributions will be reinvested into the aforementioned associated costs of running this blog and will help ensure the ongoing quest for quality upcycle design.
Your kindness and generosity will be greatly appreciated and will give me the motivation to continue.
Every contribution, however big or small, is so valuable for the future of upcycleDZINE.
Support today from as little as $2 – it only takes a minute. Thank you.