Upcycle design made out of skis has been featured on upcycleDZINE. But the skis used where all modern skis. Not the fantastic vintage wooden skis that people used a century ago. When I was a kid, a friend had a pair of wooden skis lying around in the garage of his parents. His grandparents had used them. To me it was, and still is, so impressive to imagine someone skiing on these old skis with these simple vintage metal bindings. The image of those old skis has never left my memory.
Fast forward some 40 years and here I'm featuring an incredible upcycle lighting design that uses those fantastic wooden skis.
Wooden ski gets stylish second life
The name of this upcycle design lighting piece is Ski Lamp [Ski-Leuchte in German]. The design is by Ideenklette, founded by Micha Fohl and based in Kodersdorf | Germany. Some time ago I had the pleasure of showing another upcycle design by Micha, Lampshade Stand made out of old lampshades. And now another beautiful piece.


Micha: "On our walk last year there was an old house being emptied and from time to time there was bulky waste with some lumber. Among other things, there were a few old wooden skis. It was clear that they needed to be taken home. For a while I did not know what to do with them. If I had to make something, I wanted to use as many original parts as possible. Then I noticed an old ceiling light and the idea was born. The tensioner, the leather straps and the skis itself, I could use. I also used two knobs, the lid of a tin can and a spring steel used with a jar. All for free."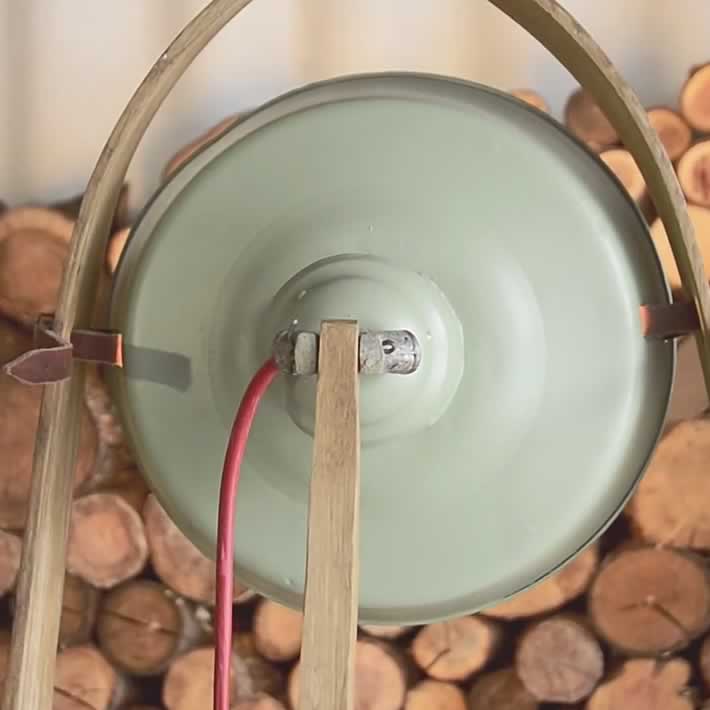 Micha started Ideenklette to have the opportunity to present his current projects [Fb]. "Because of my varied interests, I have incorporated very different facets. Basic idea of my objects is to question consumption. I'm playing with the idea of values. Everyone defines its values differently – and therefore the consumer – has a different understanding of value. If waste is however turned into something new, this structure is messed up. A rethink is needed. If an old discarded table is transformed with little means into a little eye-catcher and thereby is having disproportionately more value, I have reached my goal."


Photos © Ideenklette

Not sure about your thoughts on this creation, but I'm so impressed by the way all parts work together and form a sort of elegant light beacon. Nice features are that the angle of Ski Lamp is adjustable and comes with an easy pull switch.
Ski Lamp is a remarkable upcycle design floor lamp that shows how to give a second life to a vintage ceiling lamp and wooden skis.
Since you're here …
I have a small favor to ask. Thousands are visiting upcycleDZINE for upcycle design inspiration every month. Readers in more than 100 countries around the world are now able to support financially.
upcycleDZINE is a completely independent niche site, is very work-intensive, and offers tons of unique information for free.
To keep upcycleDZINE running, I'm asking you for your support.
Your contribution will allow me to:
– meet the hosting costs
– upgrade to keep track of traffic increases
– add new content, and keep improving the older content
– add new functionalities to this site
– improve how it works and how it looks
– and last but not least, my daily dose of coffee 🙂
Again, all contributions will be reinvested into the aforementioned associated costs of running this blog and will help ensure the ongoing quest for quality upcycle design.
Your kindness and generosity will be greatly appreciated and will give me the motivation to continue.
Every contribution, however big or small, is so valuable for the future of upcycleDZINE.
Support today from as little as $2 – it only takes a minute. Thank you.