There's an object that has been featured in three lighting designs here on upcycleDZINE. And every design uses a different version of this object. I'm talking about lamps made out of spoons/sticks. Spoons Circling uses metal spoons, Spoon Lamp [1] uses red plastic sticks/spoons and Spoon Lamp [2] uses white plastic spoons. And they're all unique in their shape and use of objects.
Spoon used for giant pinecone shaped lamp
And here's a new one that can be added to these designs. It is also called 'Spoon Lamp' and, not surprisingly, also uses spoons. But in a way that is really mind blowing. I don't want to sell the other three designs short, but in my opinion today's featured Spoon Lamp is absolutely mesmerizing. The lamp is created by Clive Roddy, a designer [and maker] based in a small rural town near Bath | UK.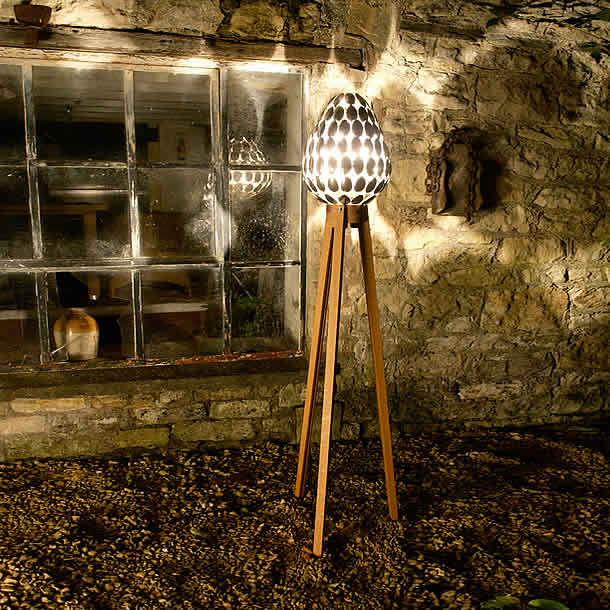 "The 'Spoon Lamp' was originally inspired by giant pinecones discovered when visiting Yosemite National Park, California. The lamp was designed to be a captivating object with or without the internal light source. Once illuminated, warm light scatters from the lamp projecting ovular shaped silhouettes onto its surroundings."
The main focus in this spoon lamp design lays on the 115 stainless steel dessert spoons. These each have a very exact angle and are mounted on a solid oak tripod that's robust and refined at the same time. The spoons on each ring are connected to an internal wooden disc. Together the discs and spoons create a wonderful and friendly elliptical shape. The shape reminds me of the CDegg pendant I made. But that is where the comparison ends. This design is such an enormous eye-catcher. No matter if the light is switched on or off.


The Lamp shown in the image is a fully working prototype. According to Clive it has been featured in international magazines and design blogs and has even been published in a few books.
"My first prototype is the only one that exists at the moment, however I am preparing to make a slightly smaller and improved tabletop version using teaspoons and a similar design aesthetic in the very near future (The new smaller version will be a far more reasonable price)."


Photos © Clive Roddy

The only critic I can think of is the fact that new spoons were used instead of discarded, redundant or damaged ones! That's of course the real strength of upcycle design, using discarded or old items in a new design so they get a second life with a bigger value.
Clive: "Unfortunately I had to use new spoons (although I would have loved to use old ones if possible!) as the shape of the lamp is worked out on the exact dimensions of the spoons used, and it would have been hard to find that many matching spoons, especially if I wanted to make more than one."
There'll be a post covering the issue of 'used vs new' in the near future. And for now enjoy this magnificent piece of upcycle lighting design!