There are always new materials being developed. Each designed for a particular use or circumstance. And the digital age we're living in is certainly no exception. I don't know how it is in your part of the world, but here in the Netherlands internet speed has increased enormously. First we had an internet connection that used the copper telephone line. But this type of cable couldn't handle high speed internet. So suddenly companies were digging all over the place to put fiber optics cable into the ground.
And by using so much new cabling came lots of cabling waste that of course could be recycled. But even better, this waste turns out to be very suitable upcycling.
Upcycled cabling gives furniture great contrast
Luckily there're always designers that see and capture such opportunities. Where most people just look at a material or object as waste, an upcycle designer thinks in creative and useful possibilities. Meet Beau Birkett, a Furniture & Lifestyle Design student at  Birmingham City University | United Kingdom. He has been featured before on upcycleDZINE with his wonderful Espresso Maker Desk Lamp.

This time he designed a stunning minimalistic piece of furniture called 'The Brace Stool', with a frame made out of fibre optic cabling. The material is HDPE tubing which is very strong because of its high strength-to-density ratio. High-density polyethylene (HDPE) or polyethylene high-density (PEHD) is a polyethylene thermoplastic made from petroleum. HDPE is used in the production of plastic bottles, corrosion-resistant piping, geomembranes, and plastic lumber.

Beau collected off cuts of cable from several fibre optic cabling companies, preventing it from going to landfill. The use of wood for the seat is a reference to the giant wooden spools the cable is stored on. A great benefit of The Brace Stool is the fact that at the end of its life the stool is able to be separated back into its basic components, Beech, HDPE and Stainless Steel. These can then be recycled or used as fuel.
"Waste is currently one of the biggest problems mankind faces, tackling it before it reaches astronomical proportions is integral to the survival of the human race, and that of life on earth. The aim of this project was to identify a potentially useful 'waste' material within the UK and how it could be utilised to produce a desirable furniture/lifestyle product, promoting 'waste' as a valuable resource."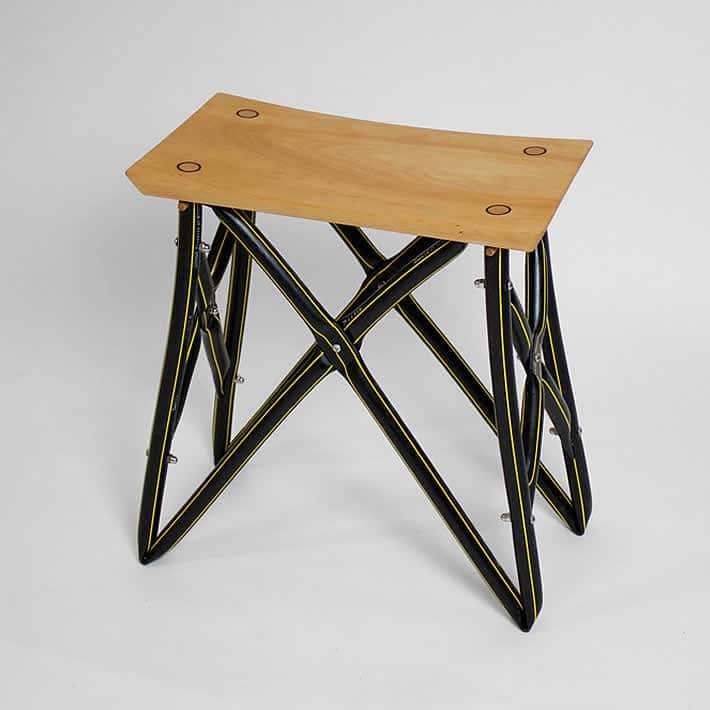 Photos © Beau Birkett

Another great thing about this upcycle design furniture is the look and feel contrast between two materials, wood and HDPE.
Since you're here …
I have a small favor to ask. Thousands are visiting upcycleDZINE for upcycle design inspiration every month. Readers in more than 100 countries around the world are now able to support financially.
upcycleDZINE is a completely independent niche site, is very work-intensive, and offers tons of unique information for free.
To keep upcycleDZINE running, I'm asking you for your support.
Your contribution will allow me to:
– meet the hosting costs
– upgrade to keep track of traffic increases
– add new content, and keep improving the older content
– add new functionalities to this site
– improve how it works and how it looks
– and last but not least, my daily dose of coffee 🙂
Again, all contributions will be reinvested into the aforementioned associated costs of running this blog and will help ensure the ongoing quest for quality upcycle design.
Your kindness and generosity will be greatly appreciated and will give me the motivation to continue.
Every contribution, however big or small, is so valuable for the future of upcycleDZINE.
Support today from as little as $2 – it only takes a minute. Thank you.