The MilkBell lampshade is my latest addition to the series of upcycle design lampshades I made. Again it's a design that uses discarded plastic milk cartons. Like I wrote before, these cartons are great for making upcycle lampshades. They're made of sturdy plastic, they have a fantastic transparency and are easy to work with.  And I haven't run out of ideas for more designs using these everyday objects.
Plastic carton turns into bell shaped lampshade
The MilkBell is a variation to the MilkDrop lampshade. Where the MilkDrop was a design made by using one lamp frame ring, this design makes use of a frame that consists of two connected rings. The top ring and a smaller bottom ring. And that's how this nice balloon/bell shape was established. So let's look at the process of making this lampshade.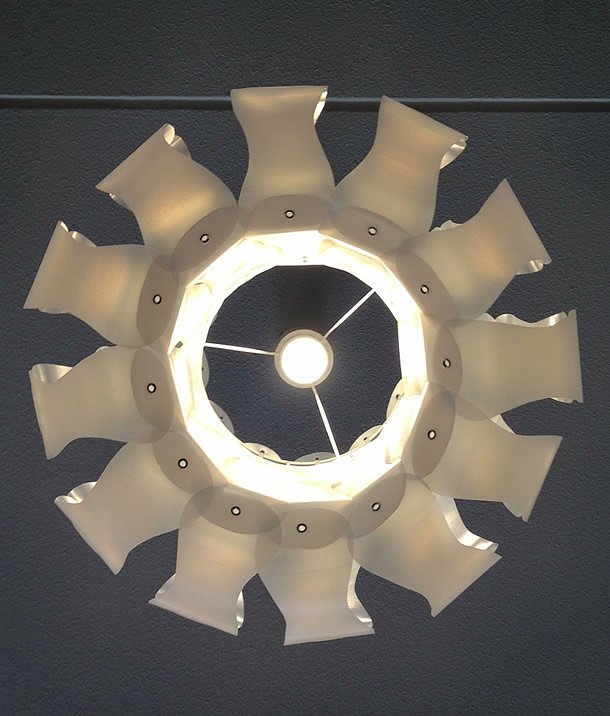 Photos © Gilbert de Rooij

After cuttting out pieces I started joining them by using an 'Eyelet Crimping and Hole Punch Function Pliers' and eyelets. This way I was able to create strips from the plastic pieces, with a certain length so they would give the lampshade a different look. Next I fixed one end of all 12 strips to the top ring of the lamp frame. The other 12 ends I attached to the bottom ring. And that's it.
When I say it's a reasonable easy lampshade to make I know that for one trying it for the first time it could be a challenge. But hey, for me it's a challenge every time. Trail and error is the way to go.
What you'll need:
24 [+1 spare] Plastic milk cartons or other sturdy plastic
Small snap-off blade knife
Scissors
Eyelet Crimping and Hole Punch Function Pliers with eyelets
Lamp frame [in this case 24/19 cm. diameter]
Tie-wraps, 20 cm. / ± 3 mm.
Please share your result and/or findings with me.
Have fun!
Since you're here …
I have a small favor to ask. Thousands are visiting upcycleDZINE for upcycle design inspiration every month. Readers in more than 100 countries around the world are now able to support financially.
upcycleDZINE is a completely independent niche site, is very work-intensive, and offers tons of unique information for free.
To keep upcycleDZINE running, I'm asking you for your support.
Your contribution will allow me to:
– meet the hosting costs
– upgrade to keep track of traffic increases
– add new content, and keep improving the older content
– add new functionalities to this site
– improve how it works and how it looks
– and last but not least, my daily dose of coffee 🙂
Again, all contributions will be reinvested into the aforementioned associated costs of running this blog and will help ensure the ongoing quest for quality upcycle design.
Your kindness and generosity will be greatly appreciated and will give me the motivation to continue.
Every contribution, however big or small, is so valuable for the future of upcycleDZINE.
Support today from as little as $2 – it only takes a minute. Thank you.