Sometimes I hear people say that it does not make sense to upcycle objects made out of metal. Because metal is one of the best materials to recycle. According to these people one could use a 'new' piece of metal because it's completely recycled.
Well, that may be the case, but one important thing they overlook is the fact that it costs quite an amount of energy to melt and recycle metal. And that's why I think that a designer who's given the choice between new metal and scrap metal or an object made out of metal, should prefer to leave that new metal alone. It's good to notice that an increasing number of designers tend to see the value of upcycling instead of recycling. When one creates upcycle design it's always difficult to create something that can be produced in big series. It shouldn't always be about quantity but also about showing what can be done with trash or old objects. Upcycle design is about making people aware of what they normally throw away and showing them a second life for these objects.
Toolbox on high heels with its own identity
Why this intro? Because the upcycle design collection in this post shows exactly what I mean. upcycleDZINE is excited to show a unique and very stunning looking upcycle design furniture collection by creative Belgium studio M&M designers. A studio founded by Mathieu Maingourd and Martin Lévêque.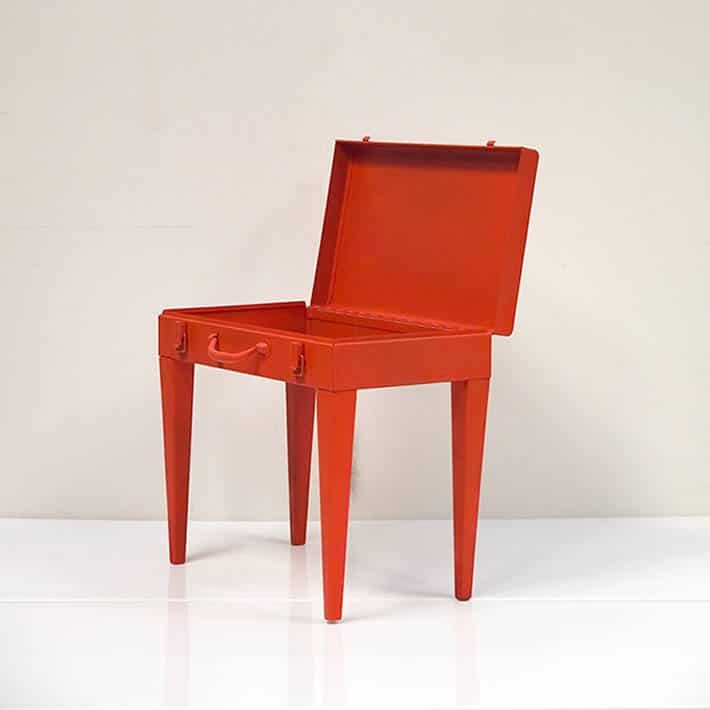 They noticed some abandoned metal toolboxes and got an idea how to give them a second life, a new look. They got this idea because they also had several wooden furniture legs laying around. So they thought about putting these 'toolboxes on a pedestal'. By doing this M&M designers transformed these boxes form just functional objects into original and inspiring pieces of furniture with a new presence.


M&M designers has a multidisciplinary approach to their designs and likes to play and explore the limits of design by manipulating objects and forms.


Photos © M&M designers

Toolbox furniture is designed as a series of valuable objects with their little bodies and their thin legs. In a way it's just like a toolbox on high heels. And what is especially attractive about them is that each of these four consoles seems to have its own identity.
Since you're here …
I have a small favor to ask. Thousands are visiting upcycleDZINE for upcycle design inspiration every month. Readers in more than 100 countries around the world are now able to support financially.
upcycleDZINE is a completely independent niche site, is very work-intensive, and offers tons of unique information for free.
To keep upcycleDZINE running, I'm asking you for your support.
Your contribution will allow me to:
– meet the hosting costs
– upgrade to keep track of traffic increases
– add new content, and keep improving the older content
– add new functionalities to this site
– improve how it works and how it looks
– and last but not least, my daily dose of coffee 🙂
Again, all contributions will be reinvested into the aforementioned associated costs of running this blog and will help ensure the ongoing quest for quality upcycle design.
Your kindness and generosity will be greatly appreciated and will give me the motivation to continue.
Every contribution, however big or small, is so valuable for the future of upcycleDZINE.
Support today from as little as $2 – it only takes a minute. Thank you.