Not only Crows like shiny things, I do too. But I'm not a great fan of very shiny stuff or bling-bling. Stainless steel has a kind of gloss that I like. To me it has an honest look and feel to it.
In the past a lot of cabinets have been produced made out of steel covered with a coat of paint. These vintage cabinets still look great, except that paint is often peeling or scratched. Time for a new look and function. Time to upcycle.
File cabinets with a new friendly look
Yesterday I visited a website by a designer who was one of the first featured on upcylceDZINE.  The upcycle design piece in that post was a beautiful locker bench by Artspace Industrial, founded in 2010 by Wes Bennett and based in Albany, New York. He had this great idea to use old school lockers.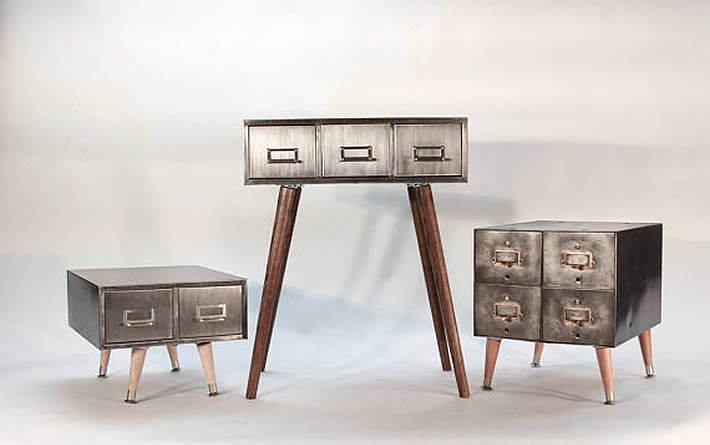 Over the years Artspace Industrial has developed a fantastic furniture collection with its own recognizable signature. And part of this collection are Vintage Steel Card File Cabinets. Very stylish, industrial looking furniture from the machine era upcycled into a new time. The cabinets have their original brass handles, latches and label plates, the paint has been stripped from all sides and all is refinished in hand brushed steel.
Artspace Industrial, LLC upcycles vintage steel lockers, file cabinets and other items into unique, one of a kind furnishings. Every piece is refurbished, re-purposed or custom made in their workshop in Upstate New York.

Photos © Artspace Industrial

Wes Bennett:
"Following my passion for 'turning straw into gold'…or polishing the proverbial 'diamond in the rough' ~ means there's never a dull moment in life."
The real beauty of many upcycle design pieces is that they still show wear and character marks. And so do these vintage steel cabinets. Together with the tapered wooden legs the cabinets got a whole new and very friendly design ideal.
Design by Artspace Industrial | Facebook