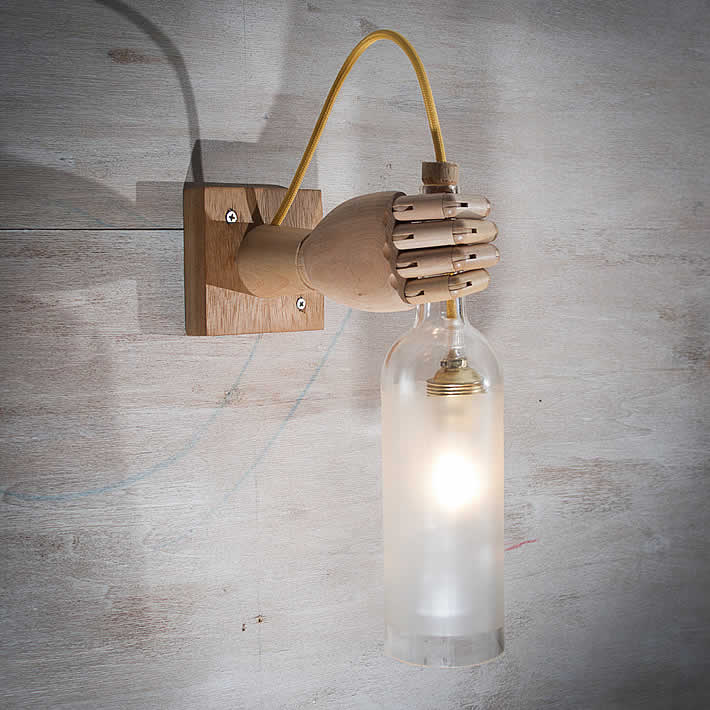 In the second post of this year I'm showing you an upcycle design lamp that uses old wine bottles. Usually glass gets recycled after it's been thrown away in a glass container. But there's always a better way than recycling and that's of course upcycling. There are some amazing ideas on upcycleDZINE that also use bottles. A few examples are: Utrem Lux by DeGross, Wine Bottle Lamp by John Liang and Quercus by Max Ashford.

Glass is a material that we easily take for granted, but we couldn't do without. The material has many different uses like practical, technological, and decorative usage. Glass reflects light in a beautiful way and is transparent. Besides being transparent it's, although brittle, also very durable. Just look at those very old stained glass windows.
Mannequin hand draws attention
So you can imagine after reading this intro that I'm attracted to upcycle design that uses bottles. And this time even more so because another object is upcycled in the design. The wall lamp [sconce] is a 'Mannequin Hand Lamp' designed by EuNa Designs, an Etsy shop founded by Eusebio Navarro, based in Xàtiva, Spanje.
"I think the lighting in a room, at home or in a business is very important."
The upcycle design lamp he created immediately produced a smile on my face. I've said it many times before, the best designs have a wow and/or fun factor. And that fun factor can certainly be found in many upcycle design pieces.

Photos © EuNa Designs

Eusebio created an amazing wall lamp by placing the bottle in a steady wooden mannequin hand just as if you would hold a bottle in your own hand. All this results in a fun and unique hand made lamp that will certainly draw attention.
Since you're here …
I have a small favor to ask. Thousands are visiting upcycleDZINE for upcycle design inspiration every month. Readers in more than 100 countries around the world are now able to support financially.
upcycleDZINE is a completely independent niche site, is very work-intensive, and offers tons of unique information for free.
To keep upcycleDZINE running, I'm asking you for your support.
Your contribution will allow me to:
– meet the hosting costs
– upgrade to keep track of traffic increases
– add new content, and keep improving the older content
– add new functionalities to this site
– improve how it works and how it looks
– and last but not least, my daily dose of coffee 🙂
Again, all contributions will be reinvested into the aforementioned associated costs of running this blog and will help ensure the ongoing quest for quality upcycle design.
Your kindness and generosity will be greatly appreciated and will give me the motivation to continue.
Every contribution, however big or small, is so valuable for the future of upcycleDZINE.
Support today from as little as $2 – it only takes a minute. Thank you.