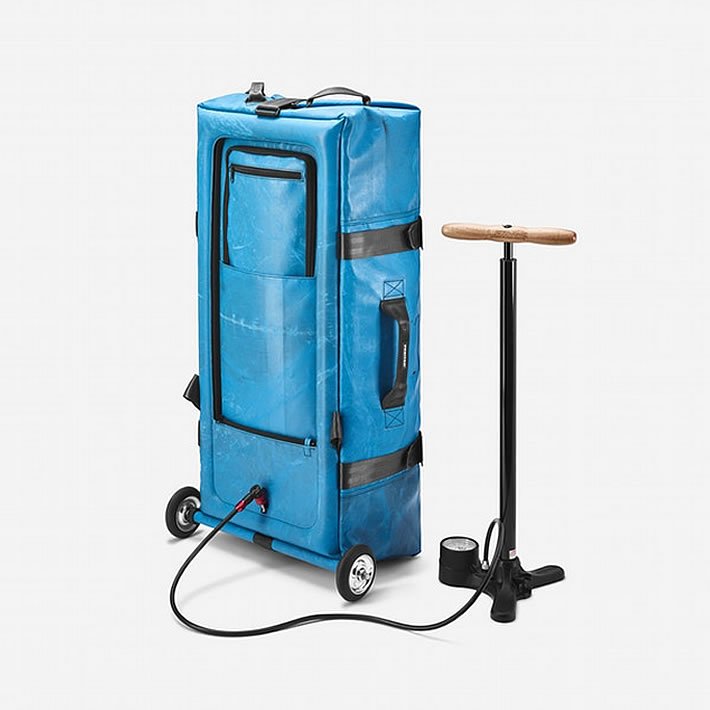 Who has not heard of bag brand FREITAG? You know, those very recognisable water-repellent upcycle design bags made out of used truck tarps [a very durable and tough fabric used to keep cargo dry during transport], discarded bicycle inner tubes, and car seat belts in Switzerland. And yes they haven't been featured yet on upcycleDZINE. I think that's because I took those bags for granted being produced for 24 years. But they are the original ones and many brands have copied these bags and started making them with these distinctive graphic prints.
FREITAG, founded in 1993 by brothers Daniel and Markus Freitag, currently offers over seventy products ranging from all kinds of multifunctional bags to accessories. One product has always been at the top of their wish list and that's a spacious, rolling travel bag.
Deflate your travel bag for easy storage
Problem was that if you would use bigger pieces of truck tarps and a frame to construct such a big travel bag, it would become to heavy. And now they think they have found the answer. The bag is called ZIPPELIN and it's the world's first inflatable travel bag. Great thing about this design is that it's spacious when you need it and compact for easy storage.


The concept used for creating ZIPPELIN is unique and quite simple. Like a typical FREITAG bag it's constructed of discarded truck tarps and seatbelt straps. And here comes the clever part, they left the frame out and amazingly enough the pressurized air provides ample support without the weight. A standard bicycle inner tube is sewn into the bag together with an axel and a pocket that can be used to store the wheels. They used commercially available parts for the wheels, making them easy to replace.


The solution was inspired by their favourite method of transport. The inner tube can be inflated and changed quickly and easily via the zipped compartment. When you are ready to pack for your trip unroll ZIPPELIN and inflate it with your usual bike pump to 30 PSI/2 bar. The bag, if needed, can be carried over the shoulder. At check-in remove the wheels, put them in the special pocket and once you land re-attach the wheels without tools. To repair or replace the inner tube, just remove it from an easily accessible zipped-up compartment. One of the best features of this 85-liter bag is when it's rolled up, the ZIPPELIN will take up very little space.


FREITAG:
"Each bag is a recycled individual product (R.I.P.), and our truck tarps are perfectly suited to create water-repellent, robust bags that –we are proud to say– could never be mistaken for anyone else's at baggage claim."

You may wonder if the air pressure will last long enough? Well after some extensive testing FREITAG assures you that the air pressure will easily last until the end of your usual holiday. Even for a longer periode as is the case with a regular bicycle. And for those of you wondering if you need to deflate ZIPPELIN when taking a plane? "No, you don't need to deflate the ZIPPELIN at any point of your journey. In modern commercial aircraft, the air pressure in the cargo hold is virtually the same as the pressure in the passenger cabin – approx. 75% of the air pressure at sea level. In other words, the difference in air pressure between the inflated bicycle inner tube and the air in the cargo hold at cruising altitude will increase by about 0.25 bar in camparison to sea level. Our internal tests and several flights have indicated that our design can withstand a much higher pressure than the additional 0.25 bar, so it is not a problem."

Photos & video © FREITAG

During my search for interesting upcycle design ideas I stumbled upon these bags on Kickstarter where they had a campaign to see if ZIPPELIN would be something people would like. No question about that because one day after the campaign was launched it had already exceeded its $120,000 funding goal.
Of course this bag isn't for everyone. If you want a hard shell suitcase or love to travel with less luggage, than this isn't for you. But for anyone else looking for a multifunctional, lightweight and a truly one-of-a-kind bag, ZIPPELIN might be a solution. And no two ZIPPELINs are the same, so it easily stands out anywhere.
Since you're here …
I have a small favor to ask. Thousands are visiting upcycleDZINE for upcycle design inspiration every month. Readers in more than 100 countries around the world are now able to support financially.
upcycleDZINE is a completely independent niche site, is very work-intensive, and offers tons of unique information for free.
To keep upcycleDZINE running, I'm asking you for your support.
Your contribution will allow me to:
– meet the hosting costs
– upgrade to keep track of traffic increases
– add new content, and keep improving the older content
– add new functionalities to this site
– improve how it works and how it looks
– and last but not least, my daily dose of coffee 🙂
Again, all contributions will be reinvested into the aforementioned associated costs of running this blog and will help ensure the ongoing quest for quality upcycle design.
Your kindness and generosity will be greatly appreciated and will give me the motivation to continue.
Every contribution, however big or small, is so valuable for the future of upcycleDZINE.
Support today from as little as $2 – it only takes a minute. Thank you.