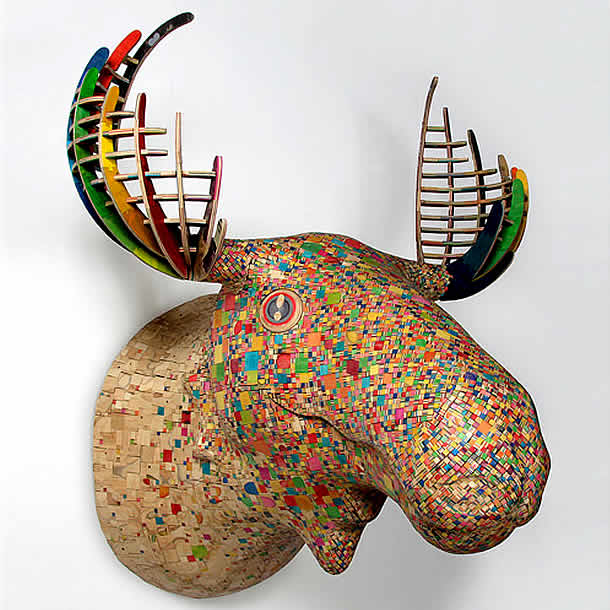 It's time again to show you upcycle design that's made from one of my favorite objects, skateboards. There have been some pretty nice design pieces made from discarded or broken boards. To name a few: guitar, sunglasses, tiles and of course a lamp.
But what's missing is sculptures. And that's why I want to show you incredible work created by an artist named Haroshi.
Skateboards sculpted with hidden object
Haroshi, is a self-taught Japanese artist, currently based in Tokyo. He's a wood sculptor and a passionate skater. He uses broken or discarded skateboard decks ands upcycles them into full-scale, three-dimensional, wooden sculptures. The style varies from mosaic to pixels.


When he selects perfect elements from old boards, he knows exactly what he wants because of his passion for skateboarding and his knowledge of board material. After stacking layers and connecting all pieces in a certain form he shaves and polishes them into the final sculpture.
Maybe as a coincidence, his creative style is similar to the way traditional wooden Japanese Great Buddhas are built. 90% of Buddha statues in Japan are carved from wood, and built using the method of wooden mosaic. This is done to save expense of materials, and also to minimize the weight of the statue.
A fun artistic aspect of Haroshi's work is that each sculpture has an object hidden inside. A metal skateboard piece is placed during construction in the centre of the final sculpture, making every piece more unique. To Haroshi, to set this kind of metal part inside his art piece means to "give soul" to the statue.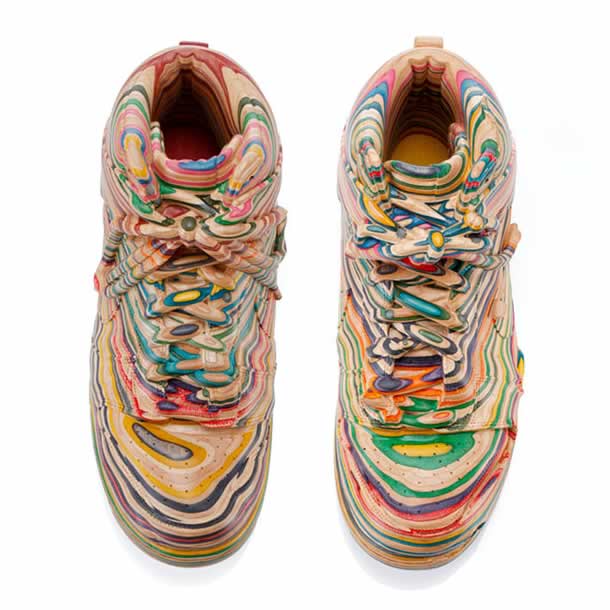 Photos © Haroshi

According to his site: 'His art pieces are equal to his skateboards, and that means they are his life itself. They're his communication tool with both himself, and the outside world.'
Since you're here …
I have a small favor to ask. Thousands are visiting upcycleDZINE for upcycle design inspiration every month. Readers in more than 100 countries around the world are now able to support financially.
upcycleDZINE is a completely independent niche site, is very work-intensive, and offers tons of unique information for free.
To keep upcycleDZINE running, I'm asking you for your support.
Your contribution will allow me to:
– meet the hosting costs
– upgrade to keep track of traffic increases
– add new content, and keep improving the older content
– add new functionalities to this site
– improve how it works and how it looks
– and last but not least, my daily dose of coffee 🙂
Again, all contributions will be reinvested into the aforementioned associated costs of running this blog and will help ensure the ongoing quest for quality upcycle design.
Your kindness and generosity will be greatly appreciated and will give me the motivation to continue.
Every contribution, however big or small, is so valuable for the future of upcycleDZINE.
Support today from as little as $2 – it only takes a minute. Thank you.