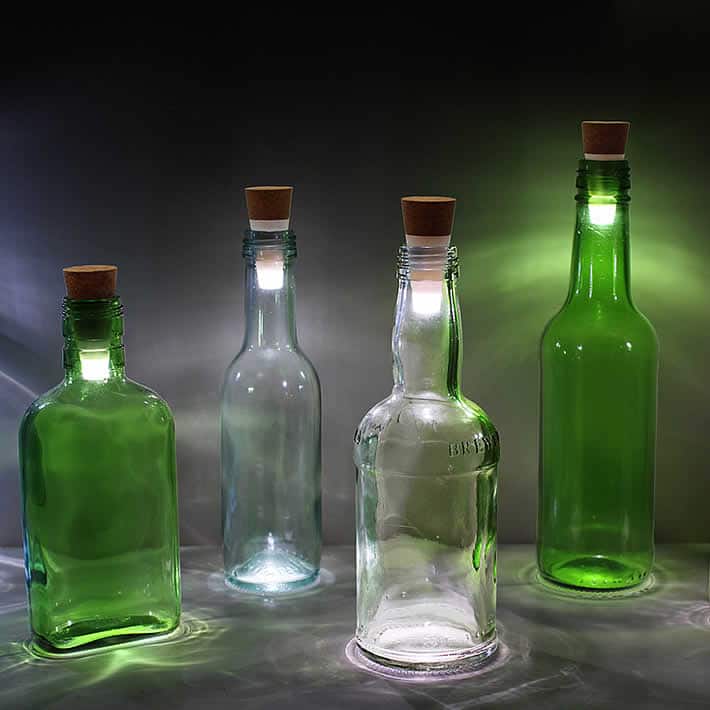 One of the first materials I brought to a recycle container was glass. Every bottle or jar that was thrown in there resulted in impressive noise of breaking glass. As a kid I always hoped that the container was empty because that would create the best noise experience. But sometimes I would throw away a bottle that had a very nice form and design. And I always thought, and still think, that it would be so nice if you could give such a bottle a new function so it wouldn't have to shatter into pieces.
Of course as an upcycle design fan you have seen many examples of great ways designers have upcycled old bottles. But most of the time these involve quite some work to create. What about a design using a bottle that would let you create upcycle design in the easiest way possible?
Your favorite bottle turned into a lamp
Well I think I may have stumbled upon a solution. It's about a design product that will let you create a bottle lamp in the wink of an eye. The product is called, of course, 'Bottle Light' and is designed by London based product designer and developer Steve Gates.

The design is shaped like a cork with built-in super-bright LED light that will let you transform almost any used glass bottle into a beautiful glowing lamp. The only thing you've got to do is take the Bottle Light with the LED light on and place it inside the bottle's neck. When fully charged the lamp will shine for up to 3 hours before needing a new charge. Recharging is done in a very clever way. When you pull off the cork's top, it reveals a USB plug hidden underneath. With this fantastic upcycle design 'device' you can hang on to your favorite bottles without having to throw them away to be recycled. And best of all, now you're able to create bottle lamps each with there own character.
"The white LED light will assume the colour of any bottle, giving users the opportunity to experiment with different coloured atmospheric lights."
After graduating from the Nottingham Trent University with a degree in Product Design, Steve has worked for a number of UK design agencies creating and developing homeware, accessories, furniture and lighting. According to his website he 'enjoys designing products with useful solutions to everyday life – sometimes with an original twist'.

Photo © Steve Gates

Concerning this product Steve did a great job in designing a very useful device that gives the user the opportunity to create his own upcycle design lamp with indeed an original twist. And another great aspect is that the Bottle Light can also be used outdoors, so you don't have to worry that the wind will blow out your candle light.
Since you're here …
I have a small favor to ask. Thousands are visiting upcycleDZINE for upcycle design inspiration every month. Readers in more than 100 countries around the world are now able to support financially.
upcycleDZINE is a completely independent niche site, is very work-intensive, and offers tons of unique information for free.
To keep upcycleDZINE running, I'm asking you for your support.
Your contribution will allow me to:
– meet the hosting costs
– upgrade to keep track of traffic increases
– add new content, and keep improving the older content
– add new functionalities to this site
– improve how it works and how it looks
– and last but not least, my daily dose of coffee 🙂
Again, all contributions will be reinvested into the aforementioned associated costs of running this blog and will help ensure the ongoing quest for quality upcycle design.
Your kindness and generosity will be greatly appreciated and will give me the motivation to continue.
Every contribution, however big or small, is so valuable for the future of upcycleDZINE.
Support today from as little as $2 – it only takes a minute. Thank you.