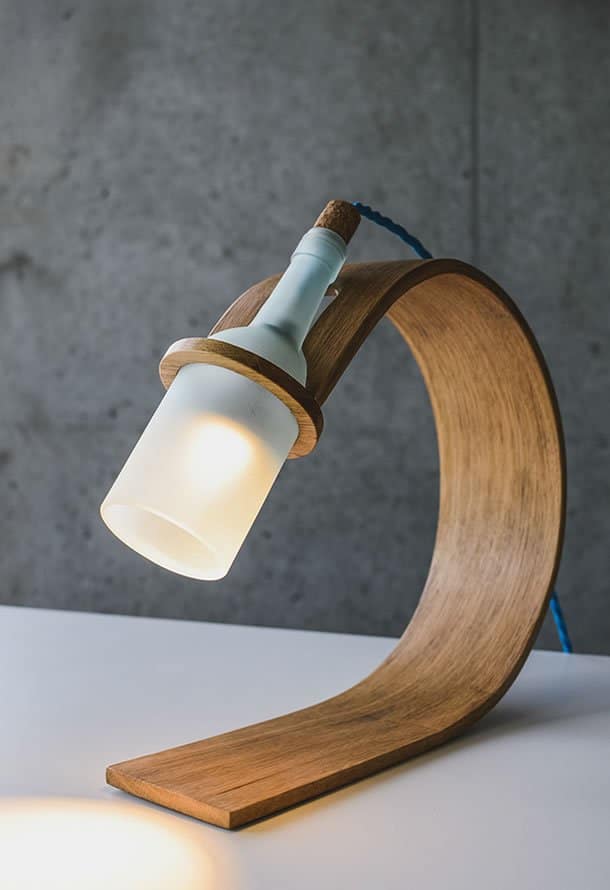 I'm very excited to show you this design. Last weekend when I was looking through the inspiring Béhance website, I stumbled upon this stunningly beautiful lighting design. It reminded me a bit of the also amazing Skatelamp by Sykes & MapleXO. The way the wood is curved and the elegant character of the design.
Sustainable stylish and functional desk lamp
The lamp is called Quercus and is designed by product/industrial designer Max Ashford from Falmouth | United Kingdom. The Quercus was designed to be a sustainable stylish and functional desk lamp. He used reclaimed wood and a discarded wine bottle.

Ashford explains on his site: "The wood is reclaimed off-cuts of seasoned white oak sourced locally (within 10 miles), that would of otherwise been burnt or sold as firewood, this is steam bent into the tight curve, using only water over a damaging, high embodied energy method like laminating. The lamp shade is a up-cycled wine bottle that I cut in half and frosted as to emit a warm soft light. The bulb is a low power LED GU10. The only bonding material is a very small amount of glue bonding the oak curve and the oak mounting ring, all other materials can be separated, the glass, the electronics, the cable making the life cycle of the product sustainable."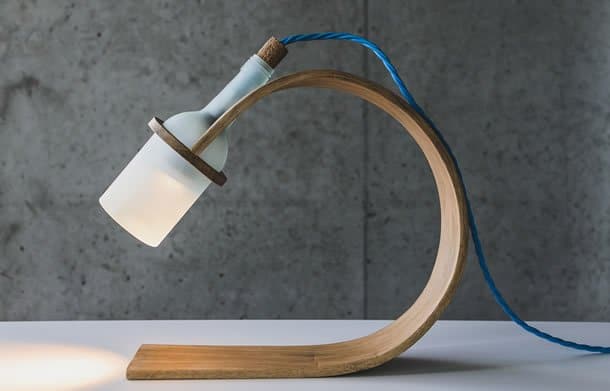 Photos © Max Ashford

Here's a short video displaying the making of the lamp.
Ashford entered the lamp into the National Student Lighting Design Awards, 'Delight In Light' design competition 2014 by Lighting Industry Association in the United Kingdom.
With over 40 designs submitted nearly 6,000 votes cast, 8 finalists have been selected. The finalists will exhibit their designs at 100% design (17-20 September, Earls Court) where visitors to the show can vote for their favourite design.
Sometimes you see something and it hits you in the heart, a feeling of beauty. And that's what Quercus did to me, an amazing upcycle design.