There are different ways one can create upcycle design. For instance by using scrap, leftovers or waste. By doing it this way the designer can give the used parts a function that's related to the original object but in a completely different way. A nice example of what I mean is a collection recognizable by its furniture legs showing inside out.
Table shows the beauty within
These handmade creations are by designer Rupert Herring who studied Design and visual art, contemporary craft at UNITEC Institute of Technology in Auckland | New Zealand. One of his creations is a coffee table called 'Eking It Out'. This unique piece of furniture is a conglomeration of table legs and balustrades made out of a large variety of timbers. Dimensions: 60 cm high, 65 cm long, 60 cm wide.
"In a sense it is recycled twice, all the pieces are off cuts from other projects, which were also created from recycled material. As with my other work in the series, this is an investigation of material and what lies beneath it's surface, finding a beauty within. It's about minimising waste, making do with what you have and to a certain extent allowing the material to govern the form."
We consume and consume and always want something new without thinking about the impact on our beautiful planet. That's why Rupert's work is all about re-using and upcycling what is already out there.
"I utilize my skills and experience as a cabinet maker to make something new from something old. These novel and aesthetically pleasing objects are generated from wood off-cuts and waste. I see these cast-offs in a new light and try to extend its life, which might mean re-purposing it. In a world of choice, the limitation of using what is cheap, readily available & sustainable is liberating. Finding use where it is not necessarily obvious. The works are also nostalgic visions in a world of throwaway excess and economic efficiency gone awry."
Furniture with table legs turned inside out
Another great creation is a series of tables. These tables are made from newel posts and balustrades, all reclaimed of course. Herring turned the legs inside out to give a modern, square, angular look on the outside, and something of an 'old colonial' aesthetic on the interior. He likes the way they embody the concept of 'negative space,' almost as though they have been magically transfigured.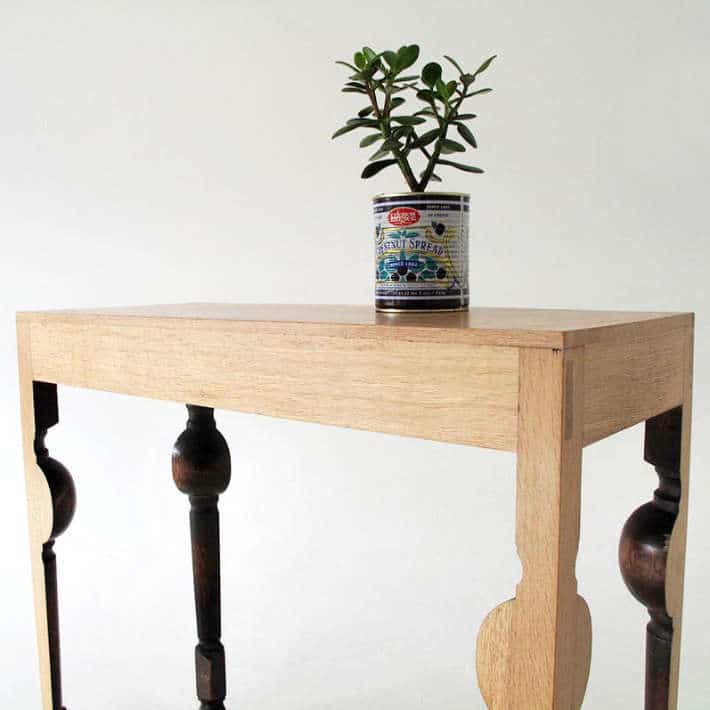 Photos © theclever and Rupert Herring
Eking It Out is a creation that's part of an amazing collection of table leg furniture design. It shows once again how impressive, inspiring, and sustainable design can be when using discarded objects.
Since you're here …
I have a small favor to ask. Thousands are visiting upcycleDZINE for upcycle design inspiration every month. Readers in more than 100 countries around the world are now able to support financially.
upcycleDZINE is a completely independent niche site, is very work-intensive, and offers tons of unique information for free.
To keep upcycleDZINE running, I'm asking you for your support.
Your contribution will allow me to:
– meet the hosting costs
– upgrade to keep track of traffic increases
– add new content, and keep improving the older content
– add new functionalities to this site
– improve how it works and how it looks
– and last but not least, my daily dose of coffee 🙂
Again, all contributions will be reinvested into the aforementioned associated costs of running this blog and will help ensure the ongoing quest for quality upcycle design.
Your kindness and generosity will be greatly appreciated and will give me the motivation to continue.
Every contribution, however big or small, is so valuable for the future of upcycleDZINE.
Support today from as little as $2 – it only takes a minute. Thank you.