upcycleDZINE is happy to be able to show you upcycle design made out of another object that hasn't been featured yet on this blog. It's a discarded object that brings back memories. As a kid I always liked to play pinball whenever I would see a pinball machine.
The swim center I used to visit as a teenager, had a pinball machine in the restaurant. Always after swimming with my friends we would end up playing a little pinball competition. And still after all these years those 'magical tables' have an attractive force. It's still fun to discover how to play a pinball machine.
Back to upcycling, I've never thought about what happens to those old discarded machines. And I certainly didn't think someone would upcycle such an object.
Work behind a pinball machine
Well luckily a designer did think about that and turned a discarded pinball machine into a stunning desk. The design is by custom furniture company White And Red Works, founded by Jonathan Szczepanski and based in Beltsville, Maryland | United States.


Jonathan was asked to create a pinball machine office desk for a pinball machine collector out of an old one provided by the client. First of all Jonathan levelled the machine so it could be used as a writing surface. After that he created walnut drawers, a walnut mid-century modern base and cord management. The playing field, where the action used to take place, is illuminated with new LED lights. A very nice touch is the characteristic pinball plungers that are now functioning as drawer handles.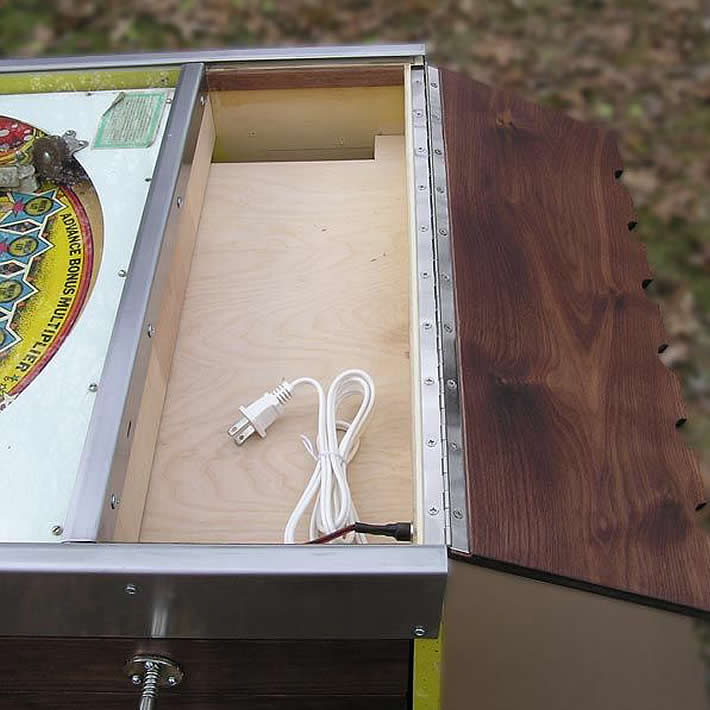 Jonathan Szczepanski first noticed his interest in making furniture during his childhood. Later on in life while at The University of Maryland, Jonathan studied Studio Art with a focus on sculpture and design. During his last semester at Maryland, Jonathan's passion for furniture came to the surface during a class in Applied Three Dimensional Design. He found that designing furniture satisfied both his design aesthetic and desire to create.


After working as a successful visual designer and web designer for several years, he started his workshop in 2005. In 2007 he started to create custom furniture professionally.


Photos © White And Red Works, Llc

Maybe you would like Jonathan to built you another pinball machine office desk. There are two options. Or you provide an old machine yourself or he can find one for an additional fee. What ever the case may be, this office desk certainly attracts attention. I would like to see how the playing field looks with the LED lights turned on. Should be great. Now you're able to work behind a pinball machine!
Since you're here …
I have a small favor to ask. Thousands are visiting upcycleDZINE for upcycle design inspiration every month. Readers in more than 100 countries around the world are now able to support financially.
upcycleDZINE is a completely independent niche site, is very work-intensive, and offers tons of unique information for free.
To keep upcycleDZINE running, I'm asking you for your support.
Your contribution will allow me to:
– meet the hosting costs
– upgrade to keep track of traffic increases
– add new content, and keep improving the older content
– add new functionalities to this site
– improve how it works and how it looks
– and last but not least, my daily dose of coffee 🙂
Again, all contributions will be reinvested into the aforementioned associated costs of running this blog and will help ensure the ongoing quest for quality upcycle design.
Your kindness and generosity will be greatly appreciated and will give me the motivation to continue.
Every contribution, however big or small, is so valuable for the future of upcycleDZINE.
Support today from as little as $2 – it only takes a minute. Thank you.