Just before Christmas I'm showing you my latest upcycle lighting design. Again it's made by using a plastic milk container. But this time it's all about simplicity. No cutting, no scissors and no use of tie-wraps. No, this design leaves the milk container in its original shape and there's only one hole, in the cap of the container. After creating more complex lampshades and lamps I wanted to see what it looked like if I kept the container intact.
Plastic upcycled into friendly lantern
The design is called MilkLantern and is like I said a piece that shows simplicity and it's origin. The first time I switched the light on and only held the electrical cord, it was just like I was holding a lantern. A very friendly and familiar light and glow. MilkLantern can be used in lots of different ways. It can be hung from the ceiling, from a small hook in the wall or on a lampstand. The lampstand in the photo is made from discarded pallet wood. You can also put the MilkLantern on a table, desk or floor to light up a specific area.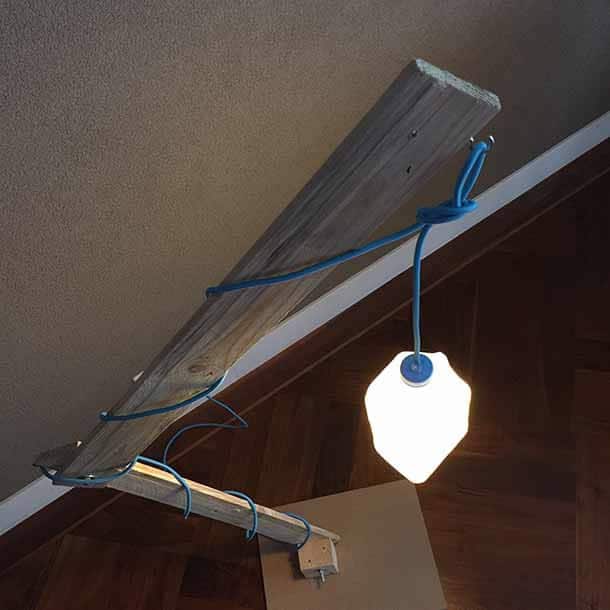 A lantern is, according to WikipediA, a very old lighting device that is used portable or as mounted light fixture to illuminate broad areas. Lanterns were also used for signaling, as torches, or as general light sources outdoors. The term 'lantern' is also used more generically meaning a light source, or the enclosure for a light source. Examples are glass pane enclosed street lights, or the housing for the top lamp and lens section of a lighthouse.
Lanterns are around for a long time. They were described as early as in ancient Greece, China, Egypt and also in the bible. Lanterns in ancient China were made of silk, paper, or animal skin. Most of the time candles were used that only gave a faint light. Then came fueled lanterns and later on electric lanterns.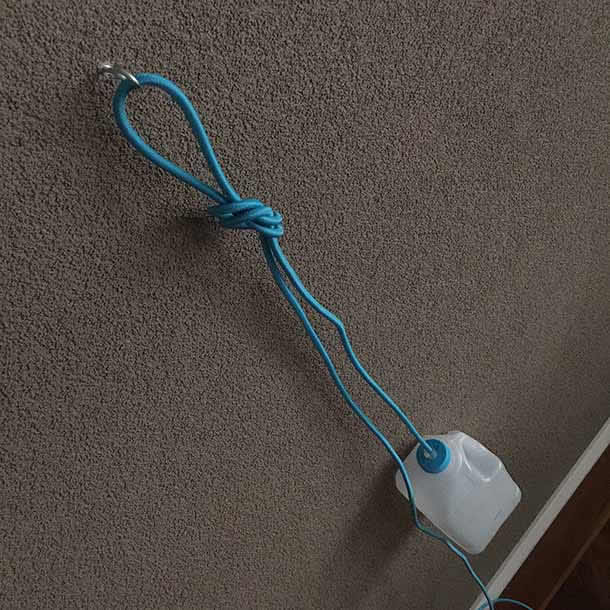 Photos © Gilbert de Rooij

And now an upcycled milk container turned into a lantern that gets its light from a LED light bulb. Great about using LEDin this design is that it doesn't get warm and is very energy-efficient.
After using the MilkLantern for a couple of days I must say that it's a very nice addition to the other designs I've made out of these plastic milk containers.
Since you're here …
I have a small favor to ask. Thousands are visiting upcycleDZINE for upcycle design inspiration every month. Readers in more than 100 countries around the world are now able to support financially.
upcycleDZINE is a completely independent niche site, is very work-intensive, and offers tons of unique information for free.
To keep upcycleDZINE running, I'm asking you for your support.
Your contribution will allow me to:
– meet the hosting costs
– upgrade to keep track of traffic increases
– add new content, and keep improving the older content
– add new functionalities to this site
– improve how it works and how it looks
– and last but not least, my daily dose of coffee 🙂
Again, all contributions will be reinvested into the aforementioned associated costs of running this blog and will help ensure the ongoing quest for quality upcycle design.
Your kindness and generosity will be greatly appreciated and will give me the motivation to continue.
Every contribution, however big or small, is so valuable for the future of upcycleDZINE.
Support today from as little as $2 – it only takes a minute. Thank you.