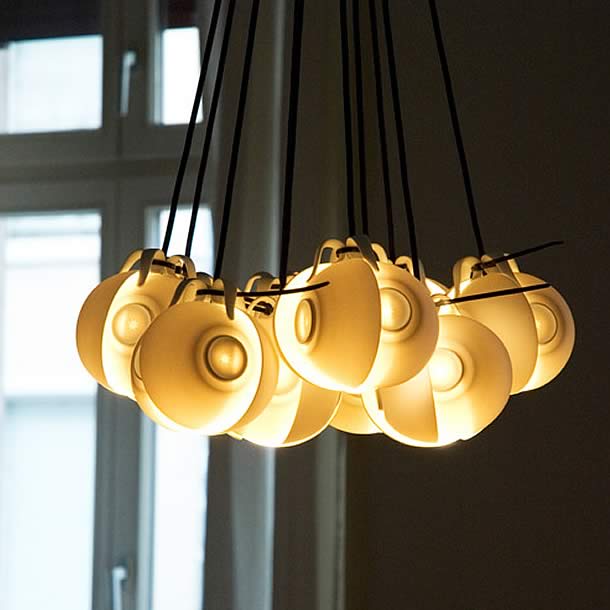 Today's featured design is upcycle design uses a very elegant and classic material. There are quite some upcycle designers that turn a cup and saucer into a nice little pendant lamp. But the design shown here is so different. Especially in the way the design plays with the light.
Porcelain shows its transparency
This lighting piece has the product number LP 08 // D1.3.1 and is made out of porcelain cups. The design is created by Laura Pregger DesignLab through joining several groups of 4 cups each. The result is some sort of bouquet that looks like a chandelier. The cups are overlapping each other in a flower like way. Because of its transparency the light shines through in different levels. The chandelier has a 60 cm. diameter and a height of 180cm.


In 2009 Laura Pregger finished her studies for Jewelry and Objects in Everyday Life, at the College of Design in Pforzheim | Germany. Today she lives and works in Basel | Switzerland. Founded in 2009, Laura Pregger DesignLab focuses on the interface between industry and crafts. "Perfect industrial production combined with intuitive spontaneous processing resulted in unique limited design products." Existing, in this case porcelain, turns into new.
In that same year Laura founded the design collective cooperation // STANDARD with Ingrid Römmich, Tobias Schäfer and Moritz Walther.


Photos © Laura Pregger DesignLab

I'm not sure if this elegant upcycle design chandelier uses discarded porcelain cups. Nevertheless, it's still a remarkable idea and one can imagine that this lamp could be made out of rejected porcelain cups. And maybe these are.
Since you're here …
I have a small favor to ask. Thousands are visiting upcycleDZINE for upcycle design inspiration every month. Readers in more than 100 countries around the world are now able to support financially.
upcycleDZINE is a completely independent niche site, is very work-intensive, and offers tons of unique information for free.
To keep upcycleDZINE running, I'm asking you for your support.
Your contribution will allow me to:
– meet the hosting costs
– upgrade to keep track of traffic increases
– add new content, and keep improving the older content
– add new functionalities to this site
– improve how it works and how it looks
– and last but not least, my daily dose of coffee 🙂
Again, all contributions will be reinvested into the aforementioned associated costs of running this blog and will help ensure the ongoing quest for quality upcycle design.
Your kindness and generosity will be greatly appreciated and will give me the motivation to continue.
Every contribution, however big or small, is so valuable for the future of upcycleDZINE.
Support today from as little as $2 – it only takes a minute. Thank you.