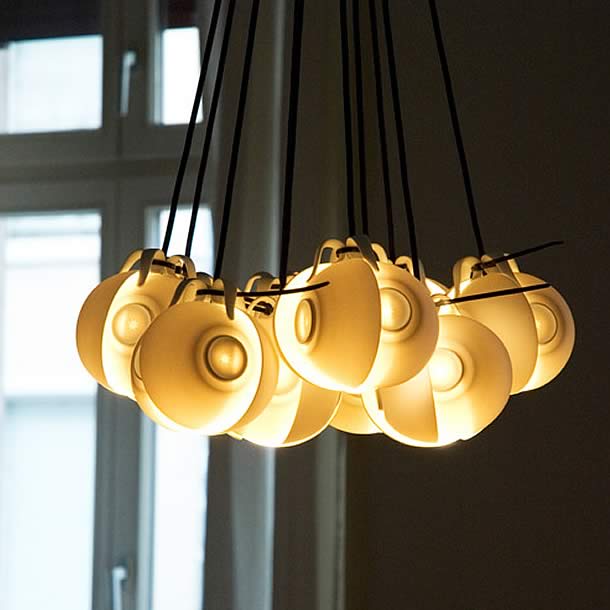 Today's featured design is upcycle design uses a very elegant and classic material. There are quite some upcycle designers that turn a cup and saucer into a nice little pendant lamp. But the design shown here is so different. Especially in the way the design plays with the light.
Porcelain shows its transparency
This lighting piece has the product number LP 08 // D1.3.1 and is made out of porcelain cups. The design is created by Laura Pregger DesignLab through joining several groups of 4 cups each. The result is some sort of bouquet that looks like a chandelier. The cups are overlapping each other in a flower like way. Because of its transparency the light shines through in different levels. The chandelier has a 60 cm. diameter and a height of 180cm.


In 2009 Laura Pregger finished her studies for Jewelry and Objects in Everyday Life, at the College of Design in Pforzheim | Germany. Today she lives and works in Basel | Switzerland. Founded in 2009, Laura Pregger DesignLab focuses on the interface between industry and crafts. "Perfect industrial production combined with intuitive spontaneous processing resulted in unique limited design products." Existing, in this case porcelain, turns into new.
In that same year Laura founded the design collective cooperation // STANDARD with Ingrid Römmich, Tobias Schäfer and Moritz Walther.


Photos © Laura Pregger DesignLab

I'm not sure if this elegant upcycle design chandelier uses discarded porcelain cups. Nevertheless, it's still a remarkable idea and one can imagine that this lamp could be made out of rejected porcelain cups. And maybe these are.