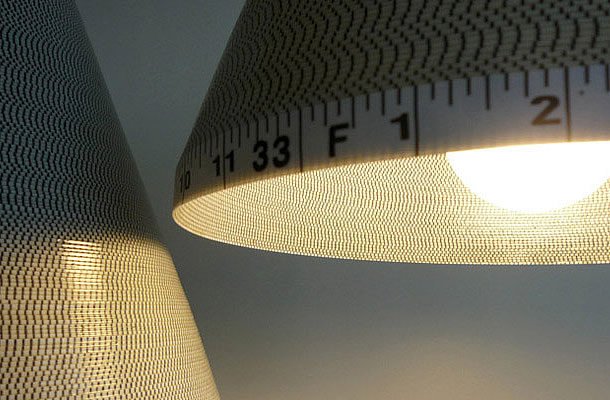 Maybe it's because I'm a graphic designer, but I do like rulers, yardsticks and measuring tapes. The lines and numbers always show a nice graphic display. Great examples of upcycle design made from yardsticks are the Yardstick Lamp and Yardstick Buffet [DIY].
So when I saw this upcycle design I new I had to post it on upcycleDZINE. The design is called 'Measuring Light' and the light is by design since, an interdisciplinary design studio located in Brooklyn | New York.
Measuring Tape lighting design pure simplicity
The Measuring Light is a pendant lamp made of coiled measuring tape. "Hand spiraled around the bobbin, the ticks of the measuring tape transform from functional tool to graphic pattern. With centimeters on one side and inches on the other. The bobbin duals as the lamp's ventilation system as well as a structural element. The Measuring Light is handmade at the design since studio."

Photos © design since

design since was founded in 2007: "We are industrial designers and artists. Our values are based on understanding the relationship between the user, the product, and the environment. 'Healthy relationships make for happy people.' Our expertise is in product, lighting, furniture, graphic and web design, as well as strategy development and branding. Our design vocabulary is based on minimalism, simplicity and clarity, inspired by context and user."
And that's certainly what this stunning upcycle design light is about: minimalism, simplicity and clarity.
Since you're here …
I have a small favor to ask. Thousands are visiting upcycleDZINE for upcycle design inspiration every month. Readers in more than 100 countries around the world are now able to support financially.
upcycleDZINE is a completely independent niche site, is very work-intensive, and offers tons of unique information for free.
To keep upcycleDZINE running, I'm asking you for your support.
Your contribution will allow me to:
– meet the hosting costs
– upgrade to keep track of traffic increases
– add new content, and keep improving the older content
– add new functionalities to this site
– improve how it works and how it looks
– and last but not least, my daily dose of coffee 🙂
Again, all contributions will be reinvested into the aforementioned associated costs of running this blog and will help ensure the ongoing quest for quality upcycle design.
Your kindness and generosity will be greatly appreciated and will give me the motivation to continue.
Every contribution, however big or small, is so valuable for the future of upcycleDZINE.
Support today from as little as $2 – it only takes a minute. Thank you.