There have not been many upcycle designs featured here on upcycleDZINE that make use of fabrics. As far as I can tell just once, LazyBeanbag by Lazy Jack. Well it's time to change that and to add another design that uses fabrics.
Today I want to show you the 'PomPom Stool and Pouf Series' by Studio Avni based in Mumbai, India. Headed by architect and designer Avni Sejpal, Studio Avni is a multidisciplinary design studio offering custom 3D textiles, furniture, lights and conceptual products.

"The studio explores design innovations through research and tactile manipulation of organic and geometric shapes and re-contextualizing traditional and unconventional materials, exploiting their inherent qualities."
Upcycle furniture that shows the vivid colors of India
When I think of India the first thing that comes to my mind is vivid colors and beautiful fabrics. And thats exactly what Studio Avni used in their PomPom Stool and Pouf Series. "The Pompom Stool Series is yet another whimsical textural take inspired from the various traditional garments and accessories worn across many regions using manipulating different indigenous techniques. The result is a a vibrant 3D tactile series that livens up any indoor space."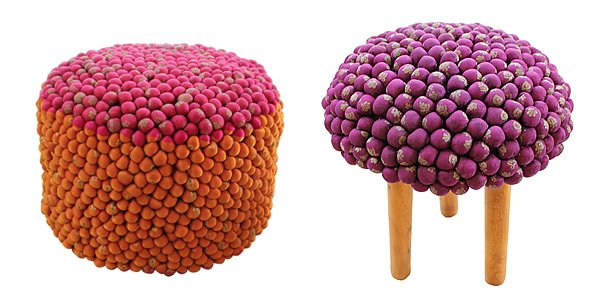 Studio Avni presented the series at the Milan Design Week. They showed an upcycled and sustainable collection of textile poufs, converting old and discarded silk Sarees. A Saree is a strip of unstitched cloth, worn by women, ranging from four to nine yards in length that is draped over the body in various styles worn across India. Studio Avni upcycles these Sarees into poufs, ottomans, stools, benches, chairs and various accessories.
Since you're here …
I have a small favor to ask. Thousands are visiting upcycleDZINE for upcycle design inspiration every month. Readers in more than 100 countries around the world are now able to support financially.
upcycleDZINE is a completely independent niche site, is very work-intensive, and offers tons of unique information for free.
To keep upcycleDZINE running, I'm asking you for your support.
Your contribution will allow me to:
– meet the hosting costs
– upgrade to keep track of traffic increases
– add new content, and keep improving the older content
– add new functionalities to this site
– improve how it works and how it looks
– and last but not least, my daily dose of coffee 🙂
Again, all contributions will be reinvested into the aforementioned associated costs of running this blog and will help ensure the ongoing quest for quality upcycle design.
Your kindness and generosity will be greatly appreciated and will give me the motivation to continue.
Every contribution, however big or small, is so valuable for the future of upcycleDZINE.
Support today from as little as $2 – it only takes a minute. Thank you.