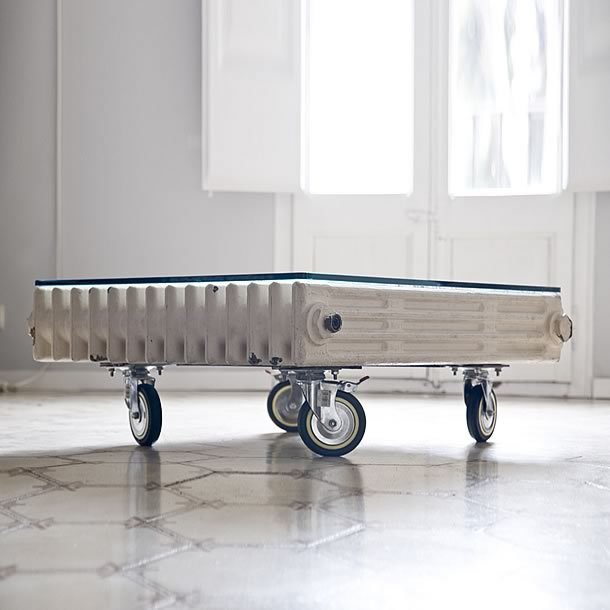 Although winter is coming closer, temperatures are still quite mild. Only in the early morning you notice that the radiators are warm. I don't know about you, but to me radiators are very sturdy and basic objects. And when they become too old to use anymore they are difficult to recycle. So luckily there are some designers who know a way to upcycle them and thereby giving these robust radiators a second life. A few examples can be seen on upcycleDZINE like the Radiator Lounge, Re-Pet lamp, Heater Seat & Chair and off course the fantastic zig-zag chair called Hot!
Radiator turned into honest furniture design
And I'm so glad that I found another one to add to this list. Last week via Pinterest I stumbled upon Spanish Interior side Micasa. Here I saw an interior design that showed an upcycle design called 'Radiator Table' by Bonba studio in Spain.


The Radiator Table is made out of a discarded cast iron radiator with glass top and wheels. It couldn't be more simple and honest. And that makes this piece of furniture so attractive, the combination of a basic shape and the story behind the upcycled item.
Bonba studio is founded by Alex Llusia and Kika Estarellas, with bases in Barcelona and Palma de Mallorca. After studying in Barcelona, ​​'their openness and willingness to learn' took them to work in different studios in Europe and collaborated on different projects. After their return, they founded Bonba Studio.


Photos © Bonba studio

Besides the cool looking Radiator Table they have a portfolio with very nice interior designs and projects worth checking out.
Since you're here …
I have a small favor to ask. Thousands are visiting upcycleDZINE for upcycle design inspiration every month. Readers in more than 100 countries around the world are now able to support financially.
upcycleDZINE is a completely independent niche site, is very work-intensive, and offers tons of unique information for free.
To keep upcycleDZINE running, I'm asking you for your support.
Your contribution will allow me to:
– meet the hosting costs
– upgrade to keep track of traffic increases
– add new content, and keep improving the older content
– add new functionalities to this site
– improve how it works and how it looks
– and last but not least, my daily dose of coffee 🙂
Again, all contributions will be reinvested into the aforementioned associated costs of running this blog and will help ensure the ongoing quest for quality upcycle design.
Your kindness and generosity will be greatly appreciated and will give me the motivation to continue.
Every contribution, however big or small, is so valuable for the future of upcycleDZINE.
Support today from as little as $2 – it only takes a minute. Thank you.