Some upcycle designers create their work because they want to show what is possible by upcycling and thereby giving an object or material a second life. You know by now that this is great because it also makes the public aware of what is thrown away everyday. But there are also designers that are driven by a necessity to upcycle because of where and how they live. These designers earn their living by using their craftsmanship to create beautiful and original pieces made out of salvaged objects. A great example is a project by Artlantique, where boats are upcycled the African way into furniture.
Salvaged metal ends up in galleries around the globe
Maybe it's me having lived in Ghana the first 4 years of my life, or maybe it's just Africa that attracts me. But upcycleDZINE is very glad to feature another upcycle designer from that continent.


It's self-taught artist and designer Hamed Ouattara, founder of Studio Hamed Ouattara, based Ouagadougou, the buzzing capitol of Burkina Faso. A country known for its artisanal metal-working heritage.


Hamed Ouattara:
"Art has a role to play in the development of Africa and my work reflects this conviction."
Hamed is daily surrounded by discarded oil drums and other metal objects. To be able to work with these objects he of course needs tools, hinges and for instance nails. Because he lives in a country with frequent power outages, he crafts these items in his studio. This results in every detail being carefully considered and perfectly tailored.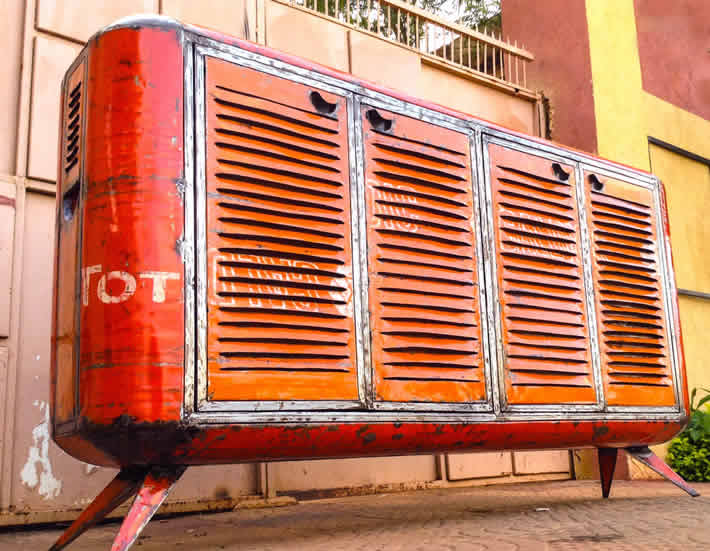 Hamed's homeware upcycle design pieces have a distinctive signature and show true craftsmanship. This is done by hammering, shaping and repurposing the old drums by hand and using traditional patterning in a whole new way. Another characteristic of his work is the fact that his furniture is often colourful and has many marks and scratches that where on the salvaged metal.


Hamed Ouattara:
"Through recycling, I'm able to offer a truly local, innovative response to waste products made from scarce resources in our region."

Photos © Studio Hamed Ouattara

He first exhibited in Brussels in 1998, and since then has grown into a leading figure in contemporary African design. His stunning work is represented by Southern Guild and gets praise from top international gallerists, with purchases by important collectors around the globe.
Since you're here …
I have a small favor to ask. Thousands are visiting upcycleDZINE for upcycle design inspiration every month. Readers in more than 100 countries around the world are now able to support financially.
upcycleDZINE is a completely independent niche site, is very work-intensive, and offers tons of unique information for free.
To keep upcycleDZINE running, I'm asking you for your support.
Your contribution will allow me to:
– meet the hosting costs
– upgrade to keep track of traffic increases
– add new content, and keep improving the older content
– add new functionalities to this site
– improve how it works and how it looks
– and last but not least, my daily dose of coffee 🙂
Again, all contributions will be reinvested into the aforementioned associated costs of running this blog and will help ensure the ongoing quest for quality upcycle design.
Your kindness and generosity will be greatly appreciated and will give me the motivation to continue.
Every contribution, however big or small, is so valuable for the future of upcycleDZINE.
Support today from as little as $2 – it only takes a minute. Thank you.