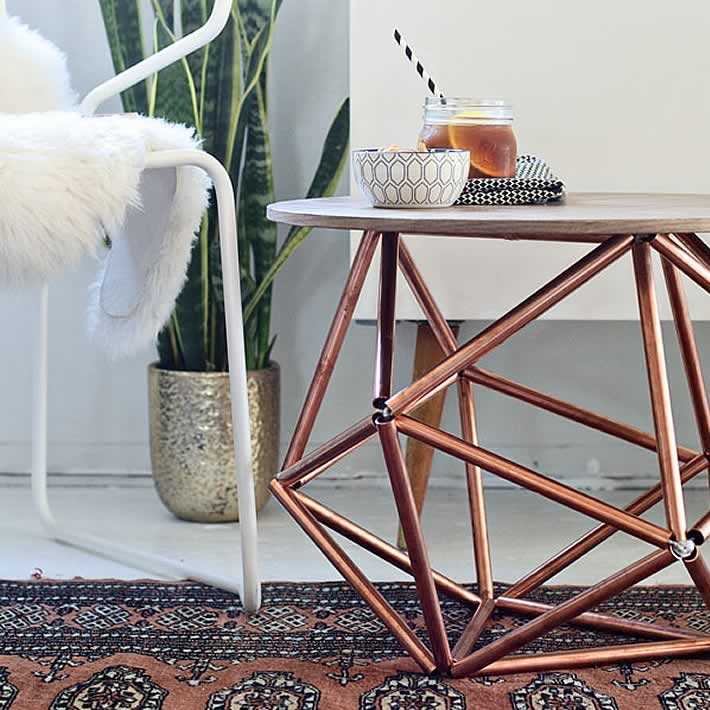 This is the time of year where days are quite 'short' and people stay more indoors. And with all this time in our house it's of course nice to watch another movie or series, read a good book, bake a cake, etc. But what about being creative and trying to make homeware? Or even better, create upcycle design.
That's why upcycleDZINE features another DIY project that you could make following a great tutorial. Only thing one could question about this DIY is the extent to which it is upcycling. upcycleDZINE decided to show this fantastic project because it uses an object in a different way than it's intended with a higher value. And therefore could inspire people to have a second look at stuff they have laying around and want to throw away.
Copper pipe himmeli is an eye-catcher
So if you've got some old copper, iron or pvc pipes, this DIY might be something for you. During one of my searches for upcycle design I stumbled upon a DIY Challenge by The Home Depot. They asked talented crafters and bloggers to come up with ingenious DIY projects that use pipe as an ingredient.


One of those people was Brittany Cramer, designer | blogger and owner of brittanyMakes and The Vintage Rug Shop, based in California | United States. She has always loved to make something using copper, it was top of her list. When The Home Depot asked her she didn't hesitate and jumped straight in. She created an amazing Himmeli Side Table from Copper Pipe.


Maybe you're not familiar with 'himmeli', but it's an old and popular technique. Website ThisisFINLAND states the following: "Although the root of the word 'himmeli' is Germanic – in Swedish and German himmel means 'sky' or 'heaven' – and different versions of this straw mobile can be found in other Nordic countries, the himmeli is considered the quintessential traditional Finnish Christmas decoration."


Before you begin, Brittany refers to one of her favorite tutorials from The Design Confidential to make the base of this side table.


Photos © brittanyMakes

Well if you're looking for a cool and amazing side table and you're also a fan of himmeli, then this is your chance. Just follow the great tutorial Brittany wrote and before you 'll know it you're the proud owner of this upcycle design side table. The copper pipe himmeli will be a sure eye-catcher. And again, you don't have to use copper pipe. Any pipe will do.
Since you're here …
I have a small favor to ask. Thousands are visiting upcycleDZINE for upcycle design inspiration every month. Readers in more than 100 countries around the world are now able to support financially.
upcycleDZINE is a completely independent niche site, is very work-intensive, and offers tons of unique information for free.
To keep upcycleDZINE running, I'm asking you for your support.
Your contribution will allow me to:
– meet the hosting costs
– upgrade to keep track of traffic increases
– add new content, and keep improving the older content
– add new functionalities to this site
– improve how it works and how it looks
– and last but not least, my daily dose of coffee 🙂
Again, all contributions will be reinvested into the aforementioned associated costs of running this blog and will help ensure the ongoing quest for quality upcycle design.
Your kindness and generosity will be greatly appreciated and will give me the motivation to continue.
Every contribution, however big or small, is so valuable for the future of upcycleDZINE.
Support today from as little as $2 – it only takes a minute. Thank you.