Today's featured upcycle design isn't about a material or object but about an interior. On my searches across the web I've seen this interior come by a few times. And it intrigued me from the start so I had to write a post about it because it's so unique. The design is an upcycled abandoned toilet in London.
In London rising property prices are becoming a big problem. The city has a few abandoned public toilets and Pete Tomlinson and Ben Russel had this idea to upcycle an old victorian style London lavatory into a clean contemporary cafe.
Now you can go for coffee in a toilet
"Formerly a Victorian toilet, built around 1890 and mothballed in the 1960's, the Attendant [fb] has been dormant for more than fifty years before being lovingly transformed into one of Europe's most unique Espresso & Food bar spaces. After two-years planning and restoration the old Attendant's office has been turned into a little kitchen and the original porcelain urinals have become an inspired coffee bench with green seating to match the original Victorian floor tiles."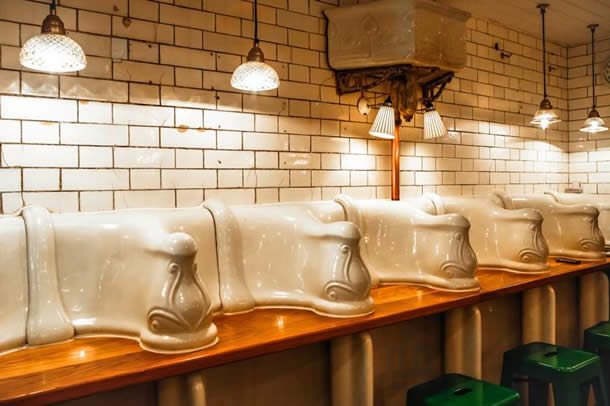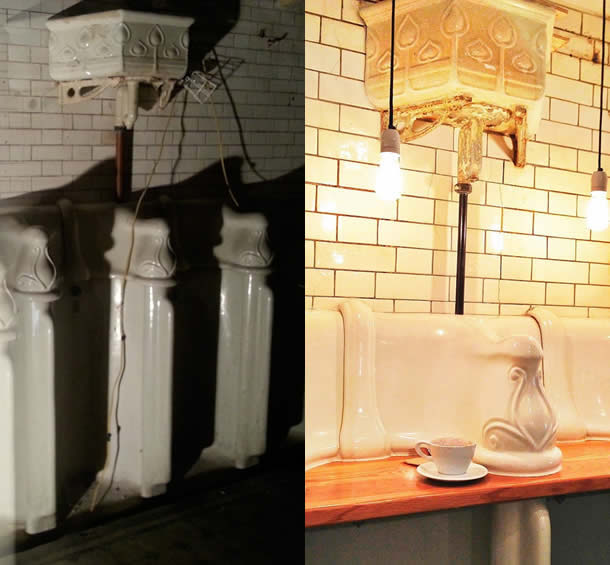 Photos © Attendant

I imagine that if you would enjoy your coffee or meal there, you could still imagine what happened there a century ago. But looking at how things turned out it wouldn't bother me at all.
I really think they had a wonderful idea and the interior is just beautiful with a lot of character. The Victorian-style cast iron exterior of the Attendant is another remarkable piece of design that serves as a nice crown for the underground cafe.
Design by Pete Tomlinson and Ben Russell | Attendant