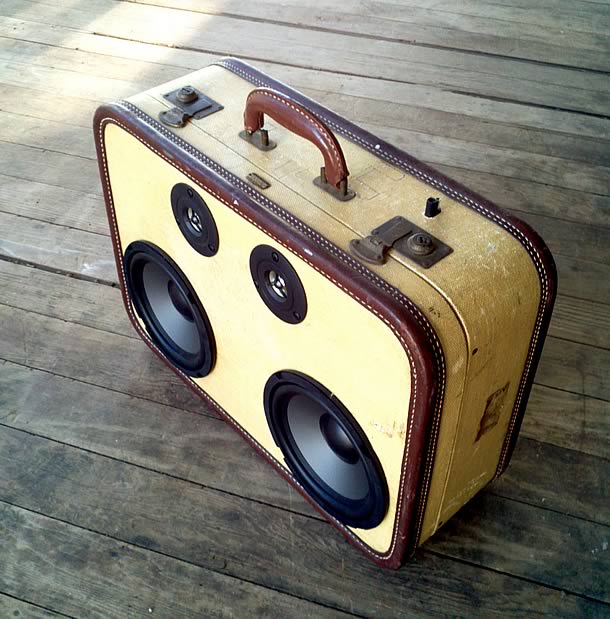 Talking about a boombox brings back memories. In the 1970s the boombox became popular as a ghetto blaster. According to WikipediA: "Boombox is a common word for a portable cassette or CD player with two or more loudspeakers. Other terms known are ghetto blaster, jambox, boomblaster, Brixton briefcase or radio-cassette." Philips was the inventor of the first boombox. In 1969 it was the first time that radio broadcasts could be recorded onto Cassette tapes without cables or microphones that previous stand-alone cassette tape recorders needed.
A stunning boombox with a vintage look and feel
However, the boombox I'm featuring today is a portable speaker without a radio or cassette player. The design is by Mr. SiMo [Dominic Odbert], | Sacramento, USA and is called 'BoomCase'. The product consists of an upcycled vintage suitcase with speakers, audio cable and battery charger. On one charge, battery life is 18+ hours.

BoomCase is handmade in California and works with any device with a headphone output. "Simply plug your phone, iPhone,iPod,computer etc. into the BoomCase AUX port and play your music for over 14 hours on a single charge. We also offer Bluetooth Connectivity for wireless play!"
The BoomCase was born in 2009. "I have been building portable battery powered speaker systems since 1999. When it came time to make my own Boombox I had two goals: 1.) It had to have a built-in rechargeable battery. 2.) It had to sound great. In the Summer of 2010 I decided to put pictures up of a new 'BoomCase' on my artist website www.MrSiMo.com and My Etsy Store. Soon after ChipChick.com blogged about us, Engadget.com re-blogged ChipChick.com's post and the rest is history."

Photo © The BoomCase

After reading this post and seeing the photos, you should really head on over to the BoomCase website. There you'll see so many other astonishing BoomCases. Each BoomCase is a one of a kind piece. No two BoomCases are the same.
Since you're here …
I have a small favor to ask. Thousands are visiting upcycleDZINE for upcycle design inspiration every month. Readers in more than 100 countries around the world are now able to support financially.
upcycleDZINE is a completely independent niche site, is very work-intensive, and offers tons of unique information for free.
To keep upcycleDZINE running, I'm asking you for your support.
Your contribution will allow me to:
– meet the hosting costs
– upgrade to keep track of traffic increases
– add new content, and keep improving the older content
– add new functionalities to this site
– improve how it works and how it looks
– and last but not least, my daily dose of coffee 🙂
Again, all contributions will be reinvested into the aforementioned associated costs of running this blog and will help ensure the ongoing quest for quality upcycle design.
Your kindness and generosity will be greatly appreciated and will give me the motivation to continue.
Every contribution, however big or small, is so valuable for the future of upcycleDZINE.
Support today from as little as $2 – it only takes a minute. Thank you.