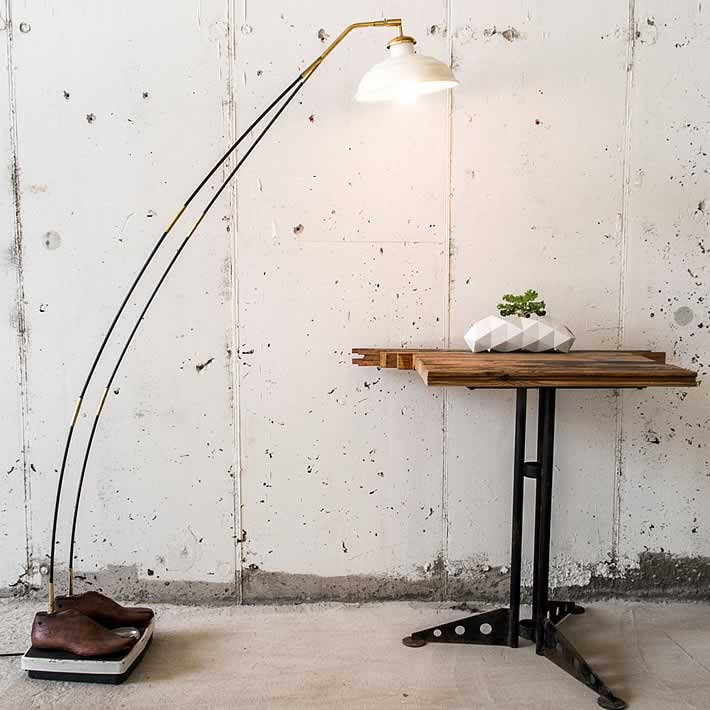 Some objects radiate time in a way others don't. Especially vintage objects. A familiar one on upcycleDZINE is a shoemaker last. This tool tells a beautiful and interesting story and shows so much character. I think lots of kids don't even know that a last is used by shoemakers to manufacture and repair shoes.
If you've read the previous post about the Boiler Light, you remember talking about using one or more discarded objects or materials. That light was made by upcycling one object. Great thing about today's featured design is that it's a combination of several old objects.
Shoemaker lasts get unique second life
This elegant, fun and interesting upcycle design piece is called Scale Lamp and is a creation by Studio ORYX. This stunning floor lamp is made out of four different used objects: a mechanical scale, wooden shoemaker lasts, flexible fiberglass rods and a powder coated lamp shade. The shade can be tilted to modify the light up or down.


Studio ORYX was established in 2009, Tel Aviv | Israel, by Re'em Eyal with aesthetics as main guideline. Every product is hand crafted, and receives a unique twist to its original use. He loves seeing the story of the product, and what it went through in time, whether it's a small dent, or a spot of rust.


Re'em Eyal:
"I do find the beauty and aesthetics in the things that other people classified as junk. From this useless junk I try to give a new meaning to the materials I buy in the Flea markets."

Photos © Studio ORYX

The studio has a sort of trademark for using vintage wooden lasts. Just look at a previous featured design, Vintage Roller Derby skateboard lamp, on upcycleDZINE. And this time again, just like in other designs by Re'em Eyal, it shows a beautiful ode to the past and gives these objects a unique second life.
Take a moment and visit the Studio ORYX Etsy shop to see the complete collection.