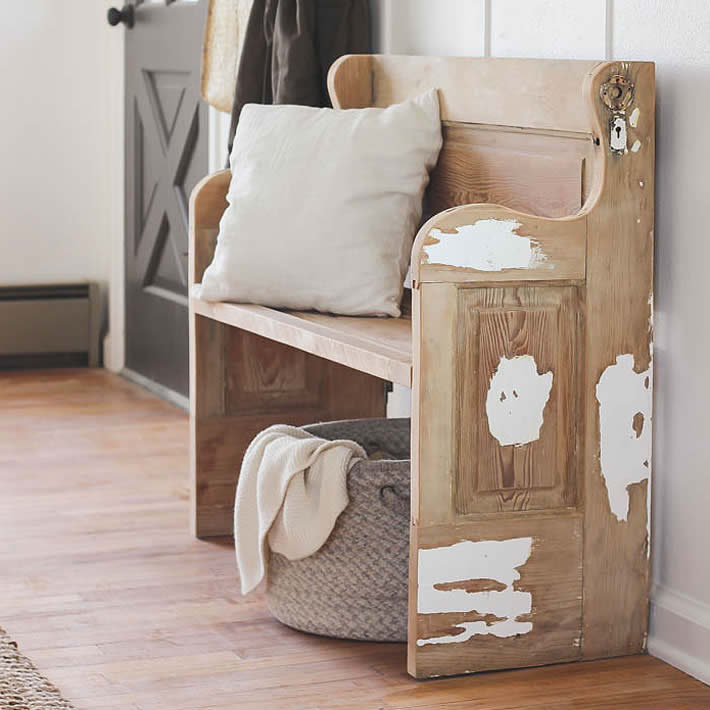 When I was a little boy I used to go to church. And in my case that church was Protestant. One of the things I remember about those church benches or pews as they are called, is the design. In my church they were not that terribly uncomfortable. But whenever I was in a Catholic church they were very uncomfortable. They had those short straight seats to sit on with very upright backrests. And for a tall person like myself, that's quite an ordeal sitting on them for more than an hour.
So you can imagine I'm not so happy when I see that I've got to sit on a church bench. It's not that I don't like those benches at all. I like it when someone uses an old church bench in a hallway or living room. That can be very charming.
Upcycle design church bench
I just had to tell you this bit about my experiences with church benches because of today's upcycle design. It's not about a church bench being upcycled. No it's about an object being upcycled into a small lovely looking church bench. The idea for this DIY project is by Liz Fourez, founder of a blog called 'Love Grows Wild'. One day while she was writing a blog post, she wondered if she could cut an old door she had, up into pieces and turn it into a church bench she was looking for.


After preparing her project she started to use the recessed panels on the door as guides. Liz split the top of the door down the middle to create a back and seat for the bench. Then she cut the bottom of the door in half to create the sides of the bench, cutting around the small panel in the middle of the door.


Whit a little creative help from her husband she succeeded in creating a bench with a very friendly, charming look and feel. Especially the curved side pieces and the vintage used look created by the paint partially left on the old door. All in all it's great to see that a creative idea turned out into such an amazing upcycle design DIY church bench.
Liz Forez:
"My favorite detail of the entire project is the old keyhole and doorknob hole that we were able to keep on one of the side pieces. It makes my antique, reclaimed, DIY heart extremely happy."

Photos © Love Grows Wild

It reminds me of an old barn I visited where the owner had dozens of tables and old doors standing around. At that time I didn't have any idea of what to do with a door like that. But I loved those old doors. Now after reading Liz's DIY blog post and tutorial, I'm wondering if I should go back to look for a nice old door.
Since you're here …
I have a small favor to ask. Thousands are visiting upcycleDZINE for upcycle design inspiration every month. Readers in more than 100 countries around the world are now able to support financially.
upcycleDZINE is a completely independent niche site, is very work-intensive, and offers tons of unique information for free.
To keep upcycleDZINE running, I'm asking you for your support.
Your contribution will allow me to:
– meet the hosting costs
– upgrade to keep track of traffic increases
– add new content, and keep improving the older content
– add new functionalities to this site
– improve how it works and how it looks
– and last but not least, my daily dose of coffee 🙂
Again, all contributions will be reinvested into the aforementioned associated costs of running this blog and will help ensure the ongoing quest for quality upcycle design.
Your kindness and generosity will be greatly appreciated and will give me the motivation to continue.
Every contribution, however big or small, is so valuable for the future of upcycleDZINE.
Support today from as little as $2 – it only takes a minute. Thank you.