Some designers are featured more than once on upcycleDZINE. Not because there isn't enough upcycle design to be found, but because the originality and quality of their upcycle designs. And today's featured upcycling project is by Dutch designer Piet Hein Eek. He's known for using materials and objects that are already out there, "what the world provides", and turning it into new design products like chairs, tables and lamps. After creating upcycle design made out of wood and metal waste, he took on another challenge using hand blown Murano glass.
A Meccano-like system for Veronese glass lighting
Paris based Veronese is a company that makes glass lighting using Murano glass. They do this for more than 85 years. Veronese teamed up with Piet Hein Eek for a project that's called Past & Future.

Video © Merci shop Paris

It all started when the son and creative director of the Veronese family business, Ruben Jochimek, wanted to give a second life to thousands of extra glass pieces that were produced since 1931. The 'treasure', an incredible amount of chandelier ornaments of a bygone age, was laying in the basement of their Parisian store.


Piet Hein Eek:
"All I had to do was to think of something to compose the glass pieces. It became a Meccano like system around a vertical axis that will let you put together all kinds of different objects."

The light creations are outfitted with LED lighting. The system consists of brass discs into which several glass pieces can be placed. It's a very versatile and customizable building system which let's the designer play with size, ornaments and colours. Each design is completely unique and new and at the same time it has a vintage style to it.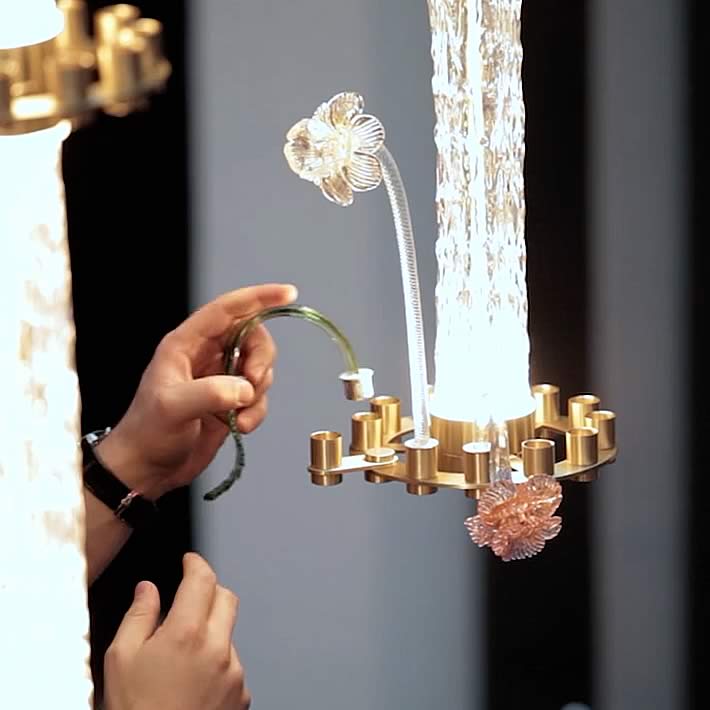 Photos © Veronese and Merci shop Paris

During the Salone del Mobile 2017, the Past & Future collection will be part of the Euroluce lighting exhibition.
Since you're here …
I have a small favor to ask. Thousands are visiting upcycleDZINE for upcycle design inspiration every month. Readers in more than 100 countries around the world are now able to support financially.
upcycleDZINE is a completely independent niche site, is very work-intensive, and offers tons of unique information for free.
To keep upcycleDZINE running, I'm asking you for your support.
Your contribution will allow me to:
– meet the hosting costs
– upgrade to keep track of traffic increases
– add new content, and keep improving the older content
– add new functionalities to this site
– improve how it works and how it looks
– and last but not least, my daily dose of coffee 🙂
Again, all contributions will be reinvested into the aforementioned associated costs of running this blog and will help ensure the ongoing quest for quality upcycle design.
Your kindness and generosity will be greatly appreciated and will give me the motivation to continue.
Every contribution, however big or small, is so valuable for the future of upcycleDZINE.
Support today from as little as $2 – it only takes a minute. Thank you.