Once again I would like to say that upcycle design is all about giving waste, discarded and/or old stuff a new function and greater value. So far so good. But there's also a group of designers who say they create upcycle design but in reality they don't. They create a new design product by using a mixture of shredded or melted waste and for instance resin. The new material they produced, being a mixture, can't be recycled at the end of its lifecycle. And therefore it would eventually end up as landfill.
upcycleDZINE always wants to show visitors what can be done with waste and discarded material and objects. But again, upcycleDZINE wants to stress that it's so important for our environment that recycle- and/or upcycle design should always have the ability to be recycled or even be upcycled again. It just felt appropriate to mention this again because upcycle design is getting more attention and more and more designers want to create upcycle design.
And now on to a design that shows what can done by really upcycling an object that could also be recycled or upcycled in the future.
Old drum shows the beauty in ugly
It's a cool looking piece of upcycle design furniture. The bench is made out of an oil drum and is called Fassbank [drum/barrel bench]. The design is by WandelWerk, founded by Markus Schäfer and based in Stuttgart | Germany.


The discarded drum was cut into two pieces and the rough edges were fixed with a black edge trim. The frame on the inside which supports the upholstered seat is fixed to the drum with decorative brass screws. An old corduroy trouser was used to make the upholstery.


Markus Schäfer:
"The traditional ways of thinking must be discarded and the improvisation is given free rein. This free and unconventional way of working gives me joy and drives me and always pushes me to try new things."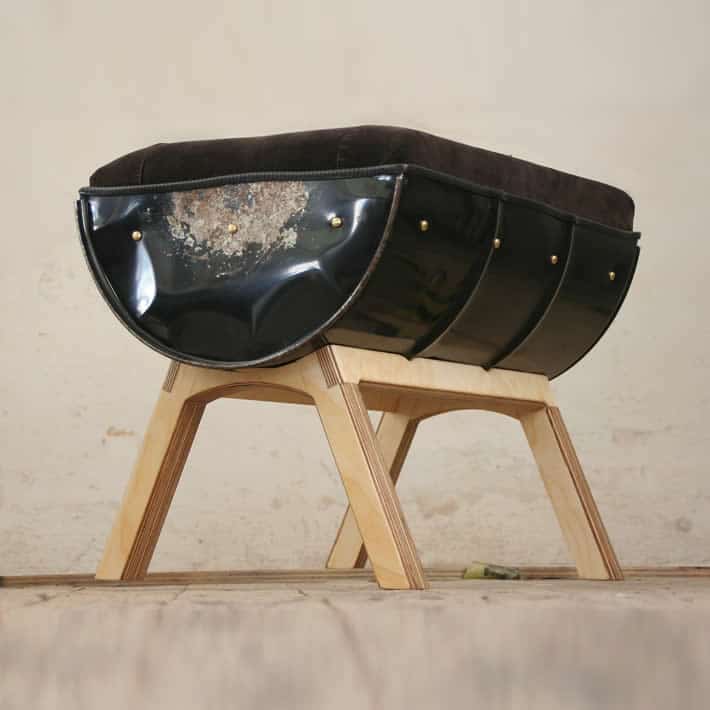 The goal of WandelWerk is to give new life to old things. Seeing the beauty in ugly. Giving back their value to things that have become useless. And to give unwelcome things a new admiration.
You may have seen other work by Markus Schäfer on upcycleDZINE like Chest Sofa and Easy Rider. Wandelwerk was formerly known as Sandman. His collection is a showcase of true craftsmanship and upcycle design.
Since you're here …
I have a small favor to ask. Thousands are visiting upcycleDZINE for upcycle design inspiration every month. Readers in more than 100 countries around the world are now able to support financially.
upcycleDZINE is a completely independent niche site, is very work-intensive, and offers tons of unique information for free.
To keep upcycleDZINE running, I'm asking you for your support.
Your contribution will allow me to:
– meet the hosting costs
– upgrade to keep track of traffic increases
– add new content, and keep improving the older content
– add new functionalities to this site
– improve how it works and how it looks
– and last but not least, my daily dose of coffee 🙂
Again, all contributions will be reinvested into the aforementioned associated costs of running this blog and will help ensure the ongoing quest for quality upcycle design.
Your kindness and generosity will be greatly appreciated and will give me the motivation to continue.
Every contribution, however big or small, is so valuable for the future of upcycleDZINE.
Support today from as little as $2 – it only takes a minute. Thank you.