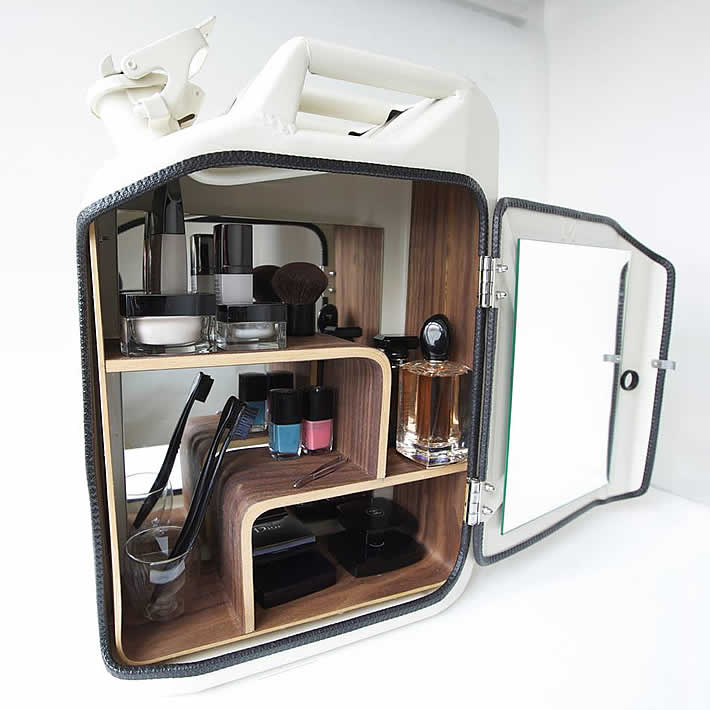 Design in general, but upcycle design in specific, gets more attention if a familiar object, product or material is used. And that happens a lot in upcycle design. Recognition is nice, but it's even better if design 'touches' you and more so if it makes you smile. When you look at today's featured upcycle design you will know what I mean.
A very familiar object upcycled into something with a completely different function. A design that will certainly make you look again and smile. It's about a Jerry can turned into a robust cabinet.
Jerry Can as a cult object
The company behind this genius idea is called Danish Fuel, founded by René Sundahl, and offers two kinds of cabinets. A Bar Cabinet and a Bathroom Cabinet. They collect the old used Jerry Cans primarily at military surplus stock houses.


The upcycling process lasts 3 weeks. 1: Cutting, drilling and grinding. 2: Burning and sandblasting. 3: New powder coat is added. 4: Internal shelves are molded in plywood. 5:Assembly and mounting. Every step is, of course, done by hand in Denmark.


The original name of the Jerry Can is 'Wehrmachtskanister' and was invented in 1939 by the Germans. It was soon discovered – and copied – by Great Britain and America and finally replaced their much flimsier version. Today, the Jerry can – named after the slang term for the German WW1 soldier – has gained popularity to the point of becoming a cult object.


"All of Danish Fuel's Jerry Cans are handcrafted in Denmark based on the principal of reusing parts of old Jerry Cans and remaking them. Hence, not two cans are alike; therefore your specific can will be a unique specimen. Though, there are different kinds of old Jerry Can models originating from different countries. At DDAY in 1944 more than 21 millions of Jerry Cans were spread all over Europe. During to our research about 1800 different models of Jerry Cans exist."

Photos and video © Danish Fuel

In my opinion Danish Fuel did a fantastic job in creating stunning and sturdy cabinet models. To complete the Jerry Can collection they also offer a trolley.
Since you're here …
I have a small favor to ask. Thousands are visiting upcycleDZINE for upcycle design inspiration every month. Readers in more than 100 countries around the world are now able to support financially.
upcycleDZINE is a completely independent niche site, is very work-intensive, and offers tons of unique information for free.
To keep upcycleDZINE running, I'm asking you for your support.
Your contribution will allow me to:
– meet the hosting costs
– upgrade to keep track of traffic increases
– add new content, and keep improving the older content
– add new functionalities to this site
– improve how it works and how it looks
– and last but not least, my daily dose of coffee 🙂
Again, all contributions will be reinvested into the aforementioned associated costs of running this blog and will help ensure the ongoing quest for quality upcycle design.
Your kindness and generosity will be greatly appreciated and will give me the motivation to continue.
Every contribution, however big or small, is so valuable for the future of upcycleDZINE.
Support today from as little as $2 – it only takes a minute. Thank you.